Velton J Lishke from Harrogate is hosting a film on Saturday, 13 May 2017, from Ashville College.
Velton is  43-years-old and from Harrogate. He spent most of his early life going from one job to another as he just couldn't seem to find his passion.
Deep down he always knew he longed to be an actor but thought that was just a pipe dream until eventually he signed up to an extras agency in 2003 at the mature age of 29.
Over the years he dabbled in and out of the industry until 2011 when he decided to give it a 100% and walked out of his full time job and also quit been an extra as he wamted to be so much more. He spent the next few years travelling round doing acting jobs all around the UK for free or just expenses, in a bid to learn his craft.
In 2014 he finally gained entry in to the prestigious spotlight registry and soon after got a professional agent, after this he thought it would be plain sailing but he was wrong. Sitting every day waiting for the phone to ring became very daunting, you could have a great acting job then nothing for 6 months.
In 2015 he decided to write and produce and direct his first short film 'blue' this managed to get in to 11 different festivals around the world and pick a few awards, from there he has made nearly ten short films and music videos picking up several awards for acting , writing and directing along the way, still learning with every production he makes, looking to the future he wants to move in to feature films and make himself a house hold name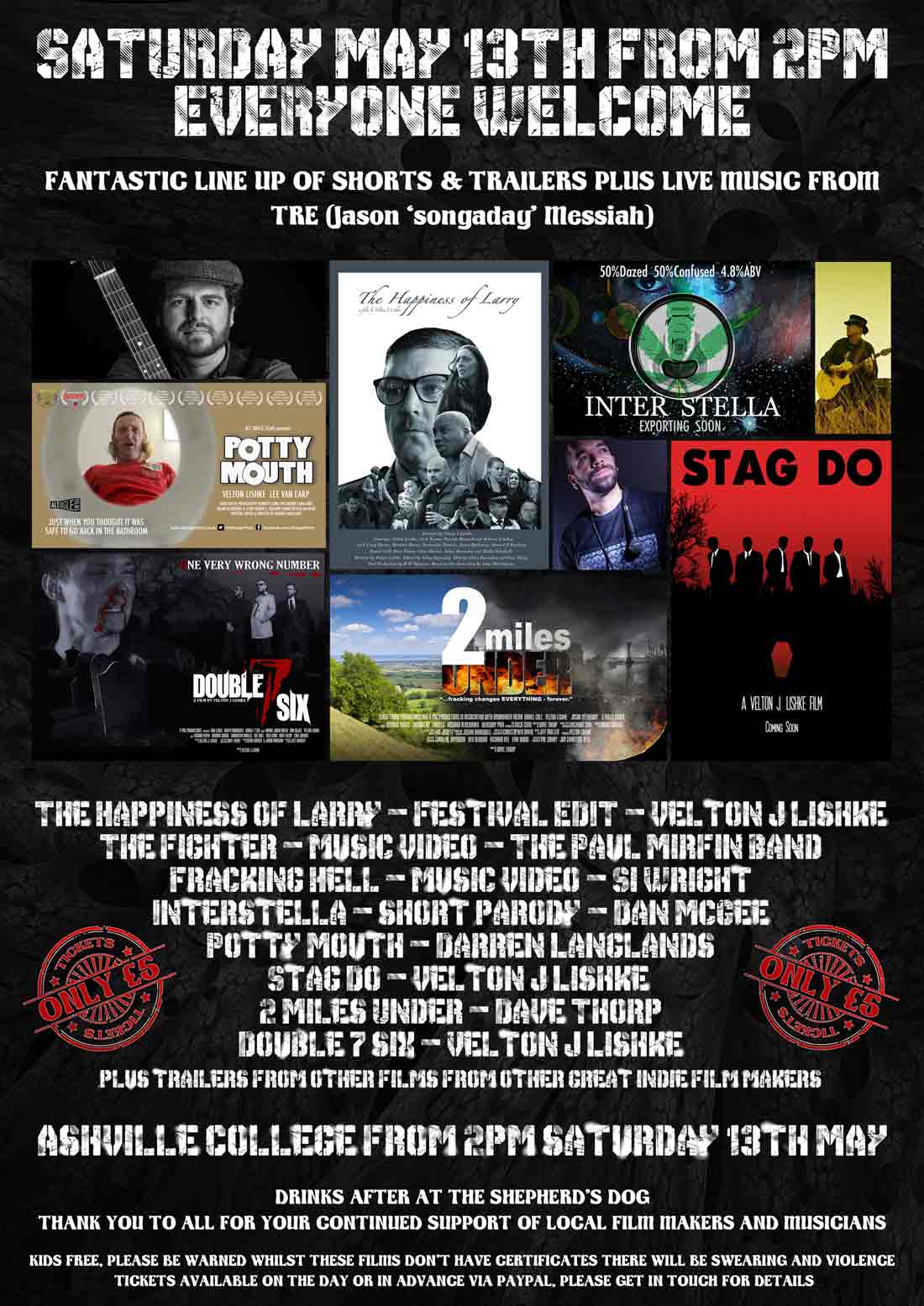 The screening: Showing the very best of independent short films and music videos from local film maker Velton J lishke, all his films were made and filmed in Harrogate with local talent as well as screening's from other local film makers.
Dave Thorp's a York film maker and partner to velton will be showing anti fracking film 2 miles under.
Other shorts from film makers from Manchester, as well as local musician / rapper Jason 'TRE' Massiah who will be doing a live set.
Hot drinks available, doors open at 2pm, there will be hopefully a few local celebs coming if they can make it, tickets are £5 available via paypal (vpaccasting@outlook.com) or on the day, please come along and see the very best in what Harrogate has to offer, support you local entertainment
https://youtu.be/YCCzRLsrxn4