One of Yorkshire's most distinctive artists has battled back from serious illness to stage a new exhibition.
Neil Simone suffered a stroke a couple of years ago but has made a great recovery and is now back working as hard as ever.
The stroke followed a triple heart bypass 15 years ago after Neil was diagnosed with coronary heart disease – but whatever life has thrown at the 69-year-old, his love of painting has always seen him through.
Neil's exhibition will be staged at Harefield Hall Hotel in Pateley Bridge from May 5 to May 8, close to his home in the neighbouring village of Glasshouses.
Neil's wife, Heather, has also become a renowned artist and will be exhibiting at the show too. And her story is also remarkable as she was working in an art shop when she met Neil who encouraged her to start painting.
Neil's work often focuses on landscapes and then he gives them a surreal twist so you often wonder exactly what's in the painting and what's in the mind.
A Londoner, Neil headed north in 1969 just at the time most people were heading down to a capital city regarded as one of the most creative in the world.
Captivated by the beauty and bleakness of the North Yorkshire landscape, Neil has remained here and inspired ever since.
He is completely self-taught and reveals just what drives him.
Neil said:

I have tenacity, patience and perseverance allied to an ability to remain focussed.

Without these qualities I am sure any creative ability I have would have been crushed long ago.
Neil has been exhibited at leading galleries throughout Britain, Europe and the USA and everywhere his unique concept and style invariably grabs the attention … and then holds it.
The potency of his imagination and eye for infinite detail, symmetry and balance gives every picture a fascinating sense of ambiguity. Things are often not what they seem at first glance.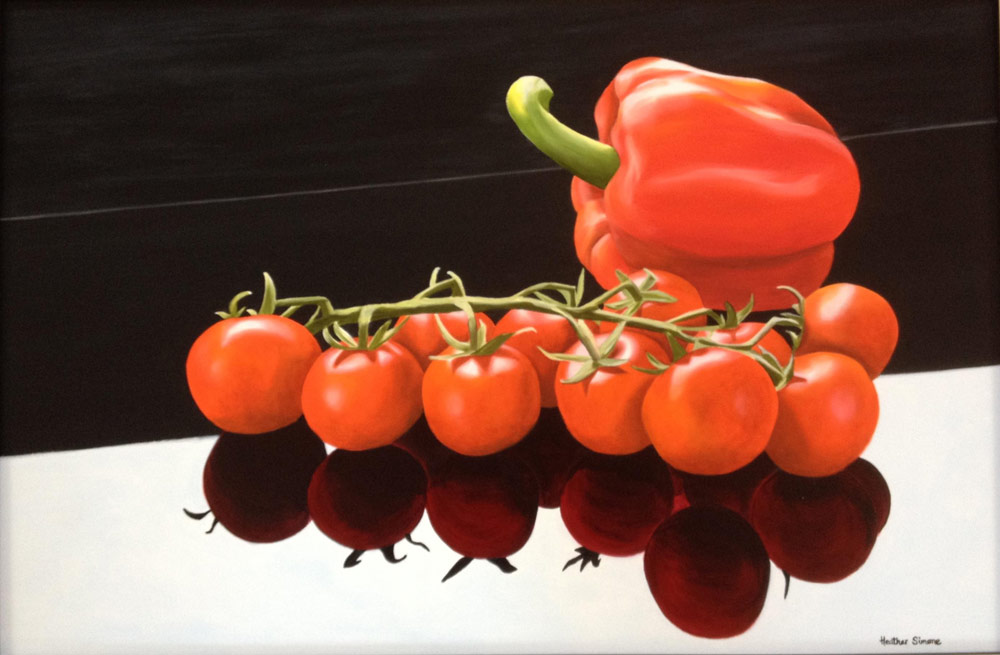 Heather said:

One lady came to an exhibition shortly after losing her husband and sat for hours looking at Neil's painting called Ocean Floor. It just evoked so many memories for her – it was clearly a very emotional experience.
When Neil met Heather she was a fan of his work but did not have the confidence to paint herself. Yet his encouragement led her to forging her own career, often focussing on the realism of still life, especially the intricate details of flowers and fruit portraits.
Neil said:

Heather's enthusiasm for my work encouraged me to coax her into having a go at drawing and painting which, fortunately, she took to like a duck to water. I could see she had both the temperament and potential skill needed to become a fine artist.
Neil remains typically enigmatic over the question he's often asked – how long does it take for him to do a painting?
"Not as long as you think – or possibly longer," he says with a twinkle in his eye.
The exhibition will be at Harefield Hall Hotel in Pateley Bridge from Thursday, May 5 to Sunday, May 8, from 11am.
To contact Neil and Heather email email heather@neilsimone.com, phone 01423 711795 and the website is www.simonegalleries.com.