The property of The Lady Clarissa Collin, daughter of the late Earl of Feversham made a welcome addition to both the paintings and furniture sections of the Tennants summer fine art sale, on Friday 25 and Saturday 26 July.
The items were fresh to the market having been in the family for generations and in to sell with attractive estimates. Highlights from this estate contributed some of the top prices across the two day sale. The works of birds by Irish artist Samual Dixon were particularly popular amongst the basso relievo works on offer; lot 558 (as detailed on the catalogue cover) and 559 reached hammer prices of £13,000 and £11,000 respectively. Within the furniture section the decorative pieces such as lot 1200 the Louis XV style rosewood, tulipwood banded and marquetry side table reached a hammer price of £2000.
Excitement came near the end of the furniture section with a bank of phone bidders in anticipation of lot 1218, a pair of 18th century carved giltwood Ho Ho birds, not only from this main estate but also sold as originally purchased from Mallet, this unusual and decorative pair eventually went to a trade buyer for £7,800.
On to different estates and the top lot of the furniture section. Lot 1158, a pair of marble console tables each with rectangular specimen marble tops, was entered by a private client from Northumberland who was delighted at the final hammer price of £55,000. Despite a break right through one, the pair was well admired for the decorative quality of the early marbles which had been laid out so that one table top was 'dark' and one was 'light'.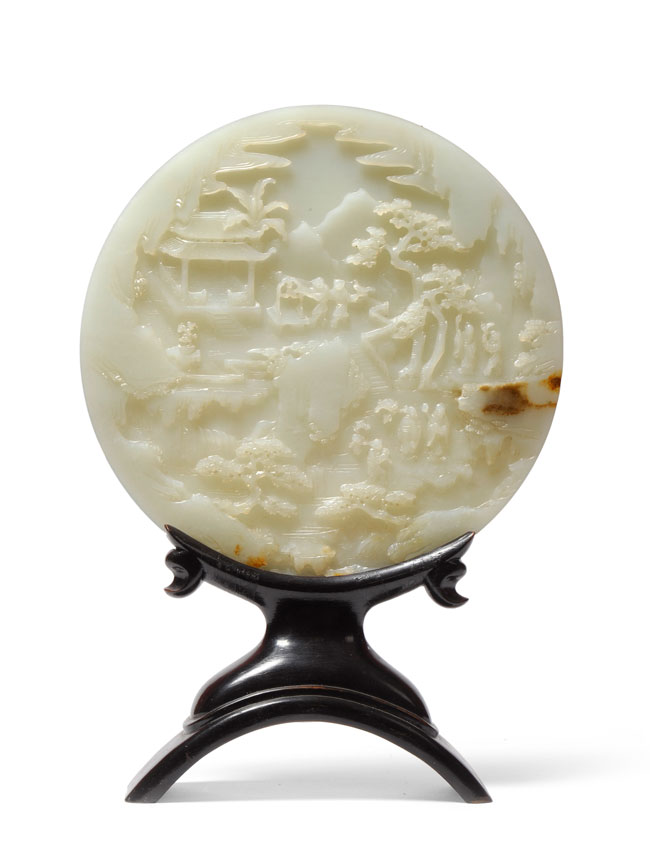 Lot 921 got the works of art off to a strong start, a pair of bronze figures of Dionysus and Ariadne, after the antique sold for £10,500. Other interesting lots in this section were 972, a Blue John urn, 942 a Swiss "Black Forest" carved wood panel and lot 932, an Austrian cold painted bronze figure of a rabbit, stamped Geschutz. These lots made £7,800, £4,000 and £3,000 respectively.
As well as the Dixon's mentioned earlier, highlights of the 'picture' section came in the form of Brian Shields "Braaq", Anne Redpath and Fortunino Matania. Also there were good prices for Edward Bawden, John Nash, Laurence Stephen Lowry, John Minton, and an Edward Seago. Lot 592, a pair of equestrian scenes by Heywood Hardy ARWS, RPE, sold with provenance of Frost and Reed Ltd, London, sold for £11,000; the same hammer price was reached for lot 540, a beautifully painted pair of Venetian views by Antonietta Brandeis, with provenance of MacConnal-Mason and Son, Ltd, London.
Lot 623, a wonderfully atmospheric watercolour sold fold £2,300 which we believe is a world record price for the artist. The image from 1939 shows figures looking out over a panoramic view of Lancaster at twilight. Two of the figures leaning over the wall are dressed in Khaki and reference the outbreak of World War II in the same year. The lot, along with two further examples by the artist, lot 622 & 624 were entered by a local private vendor whose father was a founder member of the Farsley Art Club and was taught by Fred Cecil Jones. All three were fiercely competed for achieving hammer prices of £2,300, £1,250 & £700 respectively.
Two diamond rings stole the show in terms of hammer price in the jewellery section; lot 451, a circa 1930 solitaire ring and lot 448, a diamond ring by Cartier, sold for £13,500 and £21,000 respectively. Other lots which were bought privately were lots 320, a multi-gemstone necklace and lot 434 a diamond and demantoid garnet bangle, signed Boucheron. Both items were in at attractive estimates and had a lot of interest both on the internet and the telephones, and sold for £2,600 and £2,000 respectively.
A smaller and more select rugs and carpet section included a rare Bessarabian Kilim from Eastern Europe; Andrew Middleton specialist consultant explained that these flatweave rugs were not made in large numbers and very few have survived. It was therefore no surprise that lot 1042 sold to a private collector for a hammer price of £2,800. Lot 1067, the pictorial rug from central Persia also sold above estimate, this time to a trade buyer in the south for £3,200. Additional interest in this rug is attributed to the possibility that the scene depicts Alexander the Great marrying Roxana.
Other highlights of the sale, Lot 82 a Royal Worcester porcelain pot pourri vase and cover painted with puppies, sold for £5,000. Lot 279, gold, enamel and diamond set pocket watch, sold with original chatelaine and fitted leather case, sold for £9,000. A George III provincial silver double lidded tea caddy, York 1800 sold for £5,700, its success attributed to its rare shape and good condition.
Following on from the success of the last Decorative Arts sale lots 766 and 767, a Lenci figure and a Lenci figural box both sold to an Italian buyer for £5,800 and £1,300 respectively.
It came as no surprise that the highest price of the two day sale came from the oriental section; lot 193, a Chinese jade circular table screen sold for £300,000 to an internet bidder, having been underbid in the room and contested by several telephone lines. The quality of the carving was outstanding and the good colour was almost flawless – both very attractive qualities in jade items.