A group of young trainees from across the Yorkshire Dales have been helping to construct shooting butts on the moors of the Ramsgill Estate near Pateley Bridge in Nidderdale.
The trainees are 10 months into a two year scheme called the 'Dales Rural Trainee Scheme' which is run by local charity Yorkshire Dales Millennium Trust (YDMT).
The scheme combines hands-on work experience with college study to provide 18-24 year olds with a potentially life-changing opportunity to gain the qualifications, experience and rural skills needed to manage the Yorkshire Dales landscape sensitively and sustainably.
18 year old Harry Driver-Smith from Masham is studying Gamekeeping at Newton Rigg college whilst completing an apprenticeship with the Ramsgill Estate. Under the supervision of Luke Beverly, Head Keeper at the Ramsgill Estate, Harry took the lead as his fellow trainees set to work, helping to construct new timber shooting butts on the Estate using a chainsaw, nail-gun, digger and other specialist equipment that many of the trainees have been learning how to use safely and competently through their apprenticeships.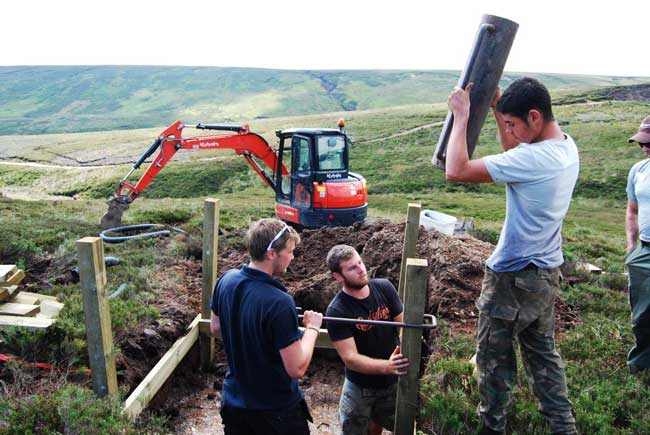 Ramsgill Estate's Head Keeper Luke Beverly said: I hope it was an interesting and informative day for all. It is good to see young people taking on varied rural occupations, eager to learn skills relevant to work in the countryside and receiving support from organisations like the Yorkshire Dales Millennium Trust.
Through their apprenticeships with employers across the Dales, the trainees are developing skills and techniques that play a key role in countryside management including environmental conservation, game-keeping and forestry.
Suzannah Barningham, aged 25 from Low Row near Richmond, is an apprentice with the Yorkshire Dales National Park Authority, studying Environmental Conservation at Craven College.
Commenting on the trainee scheme, Suzannah said: I'm really enjoying learning new skills and spending my time working outdoors in the Yorkshire Dales National Park. I recently supervised a team of volunteers from the North West Walling group and together we re-built a section of dry stone wall in Hawes, which was great experience for me.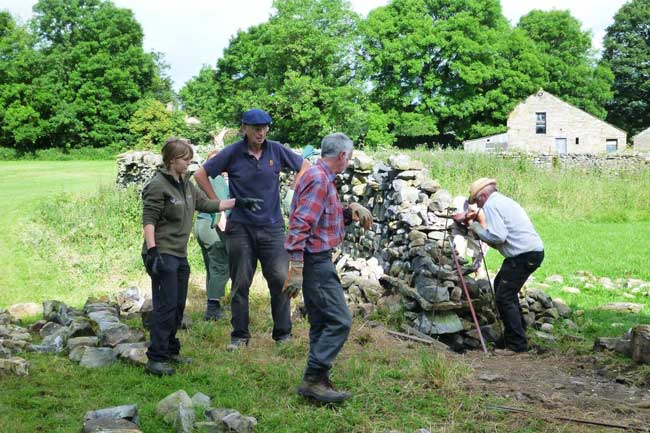 Jo Boulter, Dales Rural Trainee Scheme project officer at YDMT, added: All the trainees are progressing really well with their college studies, work placements and complimentary training courses, gaining certificates in the use of chainsaws, ATV, brush-cutter and pesticides to name just a few.

I think they should all be very proud of their progress! As many of the trainees spend their days working independently, I think it is really useful to provide fun and educational team activities to allow them to meet their fellow trainees and to share experiences, so I'm very grateful to Luke and the Ramsgill Estate for so kindly supporting this project by facilitating this hands-on training event.

I'd also like to say a huge thank you to all the employers for providing stimulating work placements and excellent mentoring for the students.
The Dales Rural Trainee Scheme has been made possible thanks to generous financial support from the Yorkshire Dales National Park Authority (YDNPA), the Garfield Weston Foundation, The Charles and Elsie Sykes Trust, J Paul Getty Jnr Charitable Trust, Lord Swinton's Charitable Trust, Yorkshire Agricultural Society and players of People's Postcode Lottery.