Minister for Sport and Tourism Helen Grant MP paid a visit to Leeds yesterday (3 April 2014) to see how the city is preparing for and being inspired by hosting the start of this year's Tour de France.
The Minister made a trip to Benton Park School in Rawdon to find out how the pupils are getting involved with all aspects of cycling with just three months to go before the Grand Départ begins in the city.
Also in attendance were guests including chair of TdFHUB2014 Ltd Sir Rodney Walker, President of British Cycling Bob Howden, Leeds City Council deputy leader and executive member for children's services Councillor Judith Blake, Welcome to Yorkshire Commercial Director Peter Dodd and Yorkshire Regional Director for Sustrans Paul Osborne to give an update on how the city and region is gearing up for the world's largest annual sporting event.
At the school, the Minister watched as pupils took part in a session on their bikes as part of Go-Ride, British Cycling's development programme for young people.
Working with British Cycling Go-Ride Coach Chris Young, Benton Park now has bike lessons as part of its PE programme and also has a weekly bike club attended by approximately 30 pupils.
The school is also part of the Department for Transport's Local Sustainable Transport Fund programme (Access to Education), promoting sustainable travel and road safety to encourage more pupils to ride to and from school. This is being delivered as a joint partnership between Sustrans and Leeds City Council. Through the project the school has received new bike parking, a fleet of pool bikes, help from a Sustrans Schools Officer, and financial contributions to a new pedestrian crossing outside the school that became operational this week.
Such has been the success of the programme that Benton Park has one of the highest rates of pupils riding to school in the city, with just seven out of more than 250 pupils in Year 7 now being taken to school by car.
Minister for Sport and Tourism Helen Grant MP said: It was great to be in Yorkshire to get an update on how plans are progressing for the Grand Depart. It's going to be a fantastic event that will showcase Yorkshire to the world, boosting local tourism and encouraging more people to get on their bikes and take up the sport. The children at Benton Park were certainly enjoying their 'Go Ride' session with British Cycling and that is something that is being replicated at schools right across the country, as excitement builds ahead of Le Tour.
Chair of TdFHUB2014 Ltd Sir Rodney Walker said: We were delighted to welcome the Minister today, to see for herself the effect the Tour de France is already having to inspire a future generation of cyclists. Our team is working hard to make this the best Grand Départ ever seen and create an economic and social benefit far beyond July. With less than 100 days to go, we are on track to deliver the biggest free sporting event ever seen in Britain – made possible with the support and financial backing of the Government of which the Minister is a part.
Deputy leader of Leeds City Council and executive member for children's services Councillor Judith Blake said: I am pleased that the Minister was able to visit Leeds today, sampling the excitement and enthusiasm there is for cycling and the Tour de France which is rising by the day all over the Yorkshire region. It is especially important for our young people like those at Benton Park School to be getting involved in cycling as we are committed to ensuring there is a lasting legacy from this amazing event.

President of British Cycling Bob Howden said:British Cycling has established a superb record of delivery when it comes to ensuring there is a participation legacy from major sport events. Through our Sky Ride, Go-Ride and Breeze programmes and facility development, we are working hard to provide thousands of opportunities for people of all ages to get on their bikes. The Tour de France is a massive focus for all cyclists and we are committed to maintaining the momentum that this unique event brings with sustainable benefits for cycling and communities.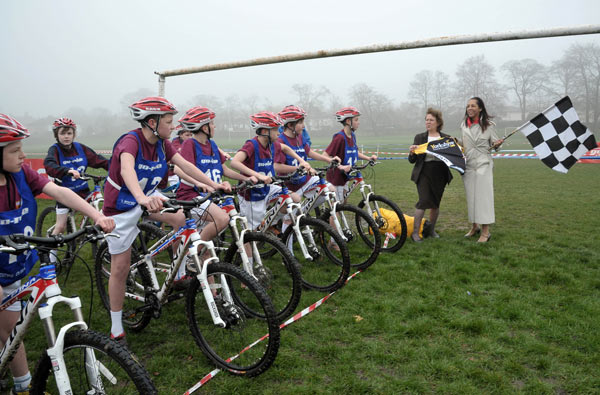 Benton Park School Head of Design and Technology Jonathan Farnaby said: The cycling programme here has made a real impact since we decided to try and make it part of the mainsteam curriculum here a couple of years ago and we are grateful to our partners for all their support. The pupils really took to it across all types of cycling, and the success of British cyclists at London 2012 and Sir Bradley Wiggins, Chris Froome and Mark Cavendish at the Tour de France has helped it to become even more fashionable with the pupils. They are hugely excited at the chance to see their cycling heroes in action in Leeds and we can't wait for July to get here.
For more information on the Grand Départ of the 2014 Tour de France in Yorkshire, and stage three from Cambridge to London, visit www.letouryorkshire.com