A substantial reward of £10,000 has now been offered for information that leads to an arrest and charge of responsible for an aggravated burglary at a family home near Harrogate.
The young family were left traumatised when four masked men broke into their house in High Birstwith at around 5.15pm on Friday 6 December 2013, and threatened them with crowbars.
The men, who were of Asian appearance, took six shotguns, a rifle and a collection of expensive jewellery before leaving the scene in the family's white Porsche 911, which they later abandoned on White Wall Lane, in Tang.
The independent charity Crimestoppers is offering a separate reward of up to £2,000 for information passed to the charity's 0800 555 111 number that leads to an arrest and conviction of the persons responsible for this crime. Only information passed to the charity's phone number will qualify for this part of the reward.
A Crimestoppers spokesman said:

This is a particularly nasty crime, especially being so close to Christmas, which has left a family badly shaken as a result of a terrifying ordeal.

Crimestoppers would urge anyone with information to contact the charity anonymously, safe in the knowledge that no one will ever know you contacted us.
Since the burglary, officers have been making extensive enquiries and have been investigating a number of leads but have yet to identify any of the suspects.
Detective Inspector Andrea Kell, of North Yorkshire Police, is leading the investigation.
DCI Kell said:

There is a substantial amount of money on offer for anyone with information about this incident.

It has been a very difficult time for the family and they are struggling to come to terms with being confronted in such an alarming manner in their own home.

Somebody out there knows who is responsible and I am appealing to anybody with information to do the right thing, come forward, and help this young family find justice.
DI Kell also urged anyone with information about the whereabouts of the stolen shotguns or jewellery to get in touch.
Anyone who can help officers with their enquiries is urged to contact North Yorkshire Police on 101 – select option 2 – and ask for Harrogate CID. The £10,000 reward offered by the victim is for information which leads to the arrest and charge of those responsible.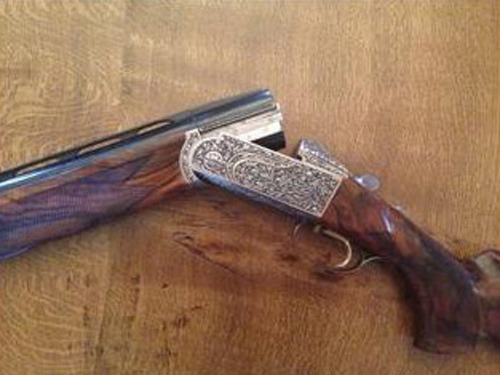 If you prefer not to give your name, Crimestoppers can be contacted anonymously on 0800 555 111. The £2,000 reward cannot be claimed by submitting information through the Crimestoppers website it must be passed over the phone. This reward is offered for information which leads to the arrest and conviction of those responsible.
Please quote reference number 12130211258 or Operation Hebron when passing information about this incident.