A North Yorkshire brewery's cooper has been turning his hand to creating scores of 'pin'-sized Christmas crackers.
Jonathan Manby, from Masham-based T&R Theakston Ltd, has spent the last month making and shaping traditional wooden casks called "pins", which will be filled with the family-owned firm's best-selling Old Peculier ale.
Each pin holds 4.5 gallons or 36 pints, and is made individually by Jonathan – the country's last brewery employed craft cooper – using the traditional tools of the trade, namely seasoned oak, iron hoops and flames.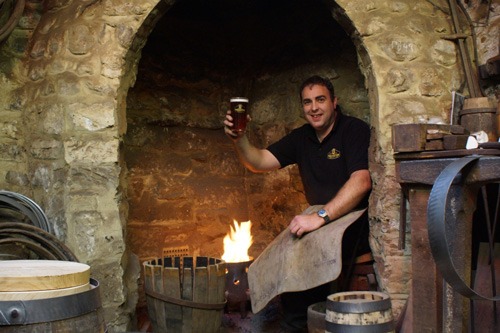 T&R Theakston Ltd Executive Director Simon Theakston said:

At this time every year Jonathan can be found in his cooperage making our Christmas Pins, one at a time, it's impossible to move for them in his shop.

Over the next two weeks, the pins will be filled with our Christmas Old Peculier and will be available for collection by customers from all over the country who have ordered them. They are proving to be a very popular additional Christmas tradition!

The art of coopering dates back hundreds of years, and Jonathan is the only remaining brewery employed craft cooper in the UK. Theakston's have employed coopers ever since the company was founded 186 years ago.

His skills are second to none, and each year Jonathan demonstrates this historic art at shows, festivals and fetes around the country.

The pins that Jonathan has been making over the last few weeks can justly be described as Christmas crackers!
Main photograph: Christmas Crackers! Theakston's craft cooper Jonathan Manby puts the finishing touches to the last of this year's pins.