A North Yorkshire charity, aiming to increase the areas where it provides a multi-level home care service, has opened a new base in the centre of Thirsk.
Disability Action Yorkshire – which last year celebrated its 75th anniversary – has moved its Home Care team from a first floor office in the market town into a new, accessible building, at 23 Chapel Street.
From here, the 30-strong team of home care assistants carry out a wide range of duties and services to people living in their homes in Thirsk, Northallerton, Bedale, Richmond, Easingwold and Ripon.
At the end of this month (August) Disability Action Yorkshire will be throwing open the doors to the new facility. At this open event, being held between 10am and 2pm on Wednesday, August 28, members of the public can come and find out more about the work the Home Care does.
DAY Home Care manager Lacey Winn said:

Our previous base had served us well for a number of years, but as our team has grown in size, and the number of services we offer increases, it became clear we needed to move.

The new building is much more suitable; it includes a meeting room, two offices, and, more importantly, it is accessible to disabled people.

Our home care assistants work and help those people who want to live as much of an independent life as possible in their own homes.

With government cut backs affecting the services North Yorkshire County Council are able to provide, our role is becoming more important by the day.

We are holding a drop in session for the public to find out who we are and what we do. We are also looking to expand our workforce as we expand our reach further afield.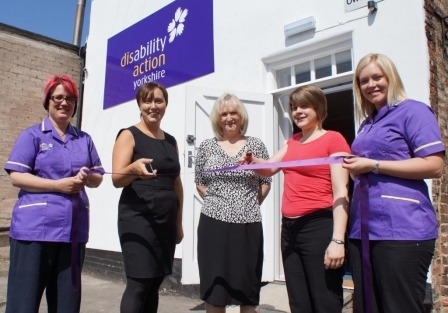 In addition to the Home Care provision in Thirsk, Disability Action Yorkshire – which operates as a social enterprise – owns a residential care home in Harrogate for adults, aged between 18 and 65, with physical disabilities.
It also runs a training centre at its Harrogate headquarters on the town's Hornbeam Park, for disabled adults who are wishing to gain the skills and experience to help them into employment.
This includes a successful second-hand furniture enterprise and, thanks to funding received in April, it is running a small restoration service.