Plans for a multi-million pound leisure and retail complex at the heart of Catterick Garrison town centre have moved one step closer, with hundreds of new jobs in the pipeline.
Richmondshire District Council has resolved to grant planning permission for the major development vision, subject to a 106 agreement being put in place.
The joint venture scheme, between Kier Property and Lingfield Securities, means that up to 700 new jobs could be created and boost the economy significantly through attracting further inward investment.
The proposed 150,000sq ft town centre plan will transform the former sports ground on Gough Road/Richmond Road, which is currently owned by the Ministry of Defence (MoD). Once completed, it will include major retail units, a five-screen cinema, cafés, restaurants and bars, and a 60-bed hotel with 400 car parking spaces.
A public consultation event held earlier on in the year attracted over 500 feedback forms in support of the proposals, with 97% indicating support for the regeneration plans.
Jonathan Hart, chief executive at Lingfield Securities, said:

We are delighted that this exciting project has secured a resolution to grant planning permission. The scheme will significantly help the local economy by creating a variety of employment opportunities, as well as providing high quality leisure and retail facilities for the people of Catterick and the surrounding area.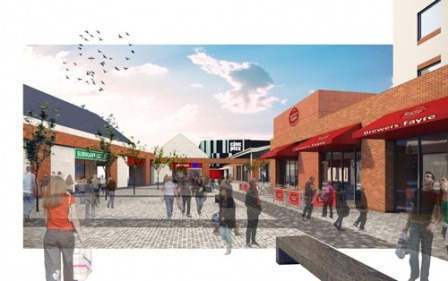 Tom Gilman, director at Kier Property, said:

This is an important milestone and we are looking forward to regenerating Catterick Garrison town centre. We have taken great care to respect the special heritage of the town and believe the proposed retail and leisure facilities will breathe new life into the area.