An entire reception class became chefs for the day with a visit to an award-winning restaurant in Masham.
The reception class at Masham CE Primary School went to Vennell's restaurant in the North Yorkshire town on Wednesday [15], where chef patron Jon Vennell showed the 17 four and five-year-olds how to make fresh ravioli as well as demonstrating how to make a honeycomb topping for ice-cream.
Teacher, Viv Carr explained that Llast week was "chef week', as part of a look at various professions the children might like to do when they grow up.
Viv Carr said:

The best part had to be the opportunity to sample what they had made in a meal in the restaurant.

Will these children be the chefs and foodies of the future – who knows?
The children enjoyed pea and ham soup, chicken ravioli, vanilla ice cream with honeycomb topping.
Father-of-three, Jon Vennell, whose daughter Peggy, five, was among the visitors said:

It was really great to offer these children an insight into this great industry," "Their faces showed such enthusiasm at so many points during the lunch, especially when my live lobsters arrived from the fish merchant.

Masham School is fantastic – my two girls love it there: the teachers are fabulous, and it was a real pleasure to do this for them.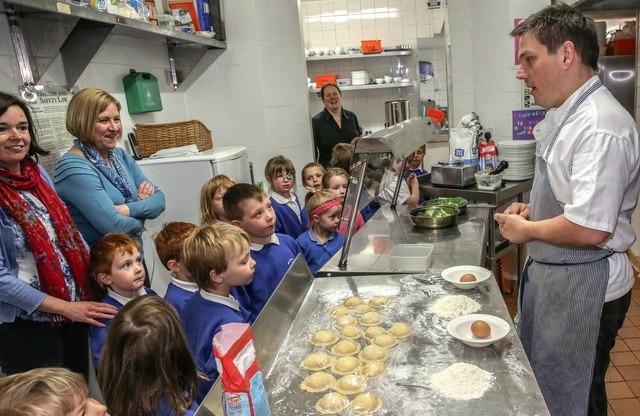 Viv Carr added:

It is wonderful for our children to have the opportunity for such hands-on learning, however providing this does have its challenges – some of our children have told us they would like to be deep sea divers and astronauts. We are working hard to come up with some experiences for that; if anyone out there can help, do let us know!
On the same day last week, guests joined Jon and his wife Laura to raise £519 for Masham's Acorns Pre-School with a charity night.