Yorkshire-based Catalyst Mobile Ltd are bringing the reality of owning a home in Crete closer for sun-seekers with the launch of a cross-platform mobile app for Dreamcatchers Crete Real Estate Agents.
The Free App 'Dreamcatchers', available for iphone, ipad and all android devices, provides users with the opportunity to be notified when hot new properties are featured, search details of properties in Crete, find out more about the different locations and book a call.
Dreamcatchers owner, Rachel Morris who is also originally from Yorkshire, is delighted with the new app which makes them the first property agent in Crete out of hundreds to have a dedicated mobile app presence. Since purchasing the business 4 years ago, Rachel has built up Dreamcatchers to a thriving property agency with over 200 properties on the books and clients from throughout Europe and beyond.
Allan Thompson, who manages Dreamcatchers' internet presence commented:

Catalyst Mobile were recommended and have been an excellent partner to work with on this project, they have given us some great advice and delivered an excellent solution to work with our existing data feeds so changes on the web are reflected immediately in the app.

90% of our business is driven from the internet. Most of our clients use tablets and smartphones to search for property these days and feedback shows sometimes it's hard for them to find our properties on the bigger overseas property websites and portal. The future is mobile and this dedicated app will provide a much better experience for our customers and complements our website.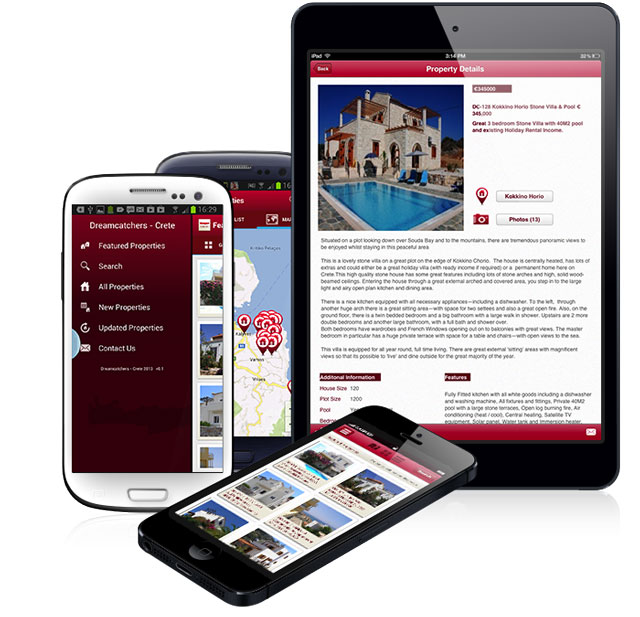 Chris Baxter, Director of Catalyst Mobile, and creator of the hugely successful ASDA price guarantee app amongst others, explained that there were many ways that Real Estate Agents and other organisations can innovate in mobile to grow their business and help clients.
Chris said:

Its not just a case of following in the footsteps of the giants who have developed apps as part of their brand and marketing strategy. We can help SMES explore some very innovative and cost effective ways of using mobile both in streamlining their business processes and also for consumer use. For example in real estate; house-presenter tools, mobile solutions for managing lettings and tenants and mobile marketing are just a few great opportunities that we can advise on.
www.catalyst-mobile.com
[sam id="4″ codes="true"]