On Friday 9th November Harrogate High School student Chantell Langford was awarded Stray FM's Future Heroes Community Award.
Chantell Langford was awarded this honour for her incredible passion for voluntary work and helping others. Chantell is involved in a wide range of voluntary work; this has included helping at her local Rainbow group and also volunteering at PIPA, a local youth group working specifically with children with special needs. The youth group were so impressed with Chantell that they have now taken her on as a permanent member of staff.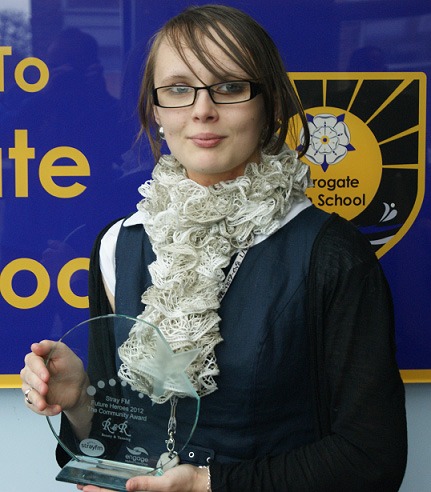 Chantell also volunteers in the school holidays, working one-to-one with children whose parents cannot find childcare. In addition to all this she also volunteers at her local Brownie and Beaver groups. Here she works with children of all different ages. She is also volunteering at Harrogate Hospital, co-hosting a Friday night slot on the Hospital radio
She also volunteers within her school. Since September she has been working in PE lessons and in the Learning Resource Centre, to help younger students with their school work.
Chantell Langford said:

Over the past two years I have been volunteering in my spare time to help others. In March this year I started helping out at Harrogate Hospital Radio where I have signed up to become a regular member to volunteer and present a radio show. This is so I can entertain the patients at Harrogate Hospital.
Harrogate High School Principal, Andrew Bayston said:

We are incredibly proud of what Chantell has achieved and what she is doing. She is a credit to herself and the school, congratulations to her on winning this award – she thoroughly deserves it. Chantell really fits with the schools mentality of working with the community and helping others when and where possible.