Pupils at an independent prep school on the outskirts of Harrogate are helping children at a Hungarian orphanage to have a happy Christmas.
Youngsters at Belmont Grosvenor School, based at Swarcliffe Hall, Birstwith, near Harrogate, celebrated their Harvest Festival by supporting charities both at home, and abroad.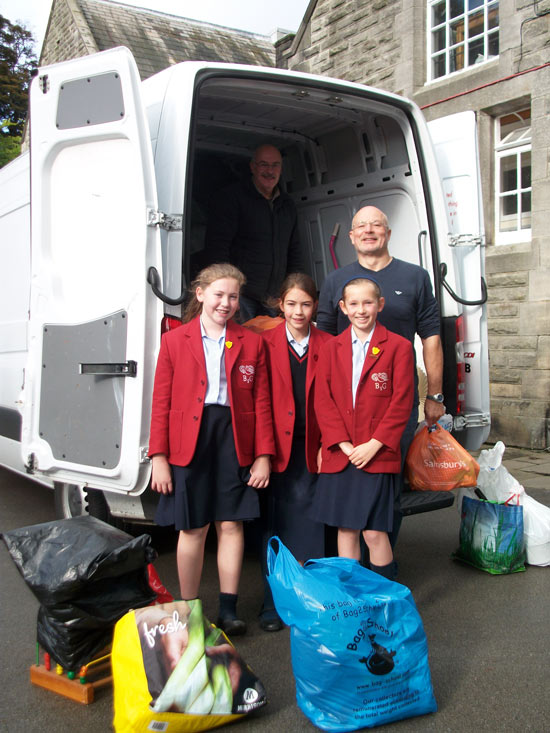 The children brought in tins, jars and packets of food to be distributed to pensioners through the charity Age UK – but pupils at the co-educational school also donated toys and clothes to help youngsters at an orphanage in Hungary.
Harrogate charity worker Tony Frazer, whose three children are all former pupils at Belmont Grosvenor School, dropped into the school to pick up the donations – and promised they would arrive in Gyor in time for Christmas.
Mr Frazer has been organizing aid deliveries to Gyor for almost a decade – and pupils at Belmont Grosvenor School have supported his work through their annual Harvest Festival.
Sophie Jones, charities prefect at the school, said the food parcels would help the elderly in the local community – while the clothes and toys would bring a smile to the faces of children in the Gyor orphanage.
Sophie said: 

At this time we come together to celebrate harvest festival and the abundance of good food we have to enjoy. We also think of those both young and old, that are not as fortunate as ourselves.

Once again, this year, we are delighted to help children in Hungary who have very little by donating clothes and toys that we no longer need or have grown out of.

These gifts will all make such a difference and brighten up many lives in Yorkshire and in Hungary.
Mr Frazer pledged to ensure all the gifts were delivered in time for Christmas.