The long awaited Harrogate Open Exhibition 2012, now open at The Mercer Art Gallery has just announced their 2012 prize-winners. This ever popular show, a showcase for the district's talented artists, features 206 works in a wide range of media, from paintings and prints, to sculpture, jewellery and ceramics.
Artists entered altogether 612 works of art for the Harrogate Open, from which the panel selected 206 works. The exhibition also has a prize fund of £1,000 generously sponsored by the Friends of the Mercer Art Gallery.
This year's winner of the £200 top prize is Otley based Julia Odell with her painting Nithering Almscliffe. Second prize £100 goes to painter Daren Higham, also based in Otley, for Edgelands Cont.
The selectors were Harrogate artist Adam King, freelance curator, Caroline Krzesinska, and Jane Sellars, Curator of Art for Harrogate Borough Council.
This is also a chance to vote for your favourite piece of artwork for the People's Prize.
Jane Sellars comments:

Visit the exhibition and vote for the artwork you like the best to help it win a prize of £100 donated by the Friends of the Mercer Art Gallery. Admission is free and all works are for sale at affordable prices.
The Harrogate open 2012 runs until 20 January 2013 with opening times: Tues – Sat 10.00 am to 5.00 pm, Sun 2.00 pm to 5.00 pm Admission Free.
The Mercer Art Gallery is home to Harrogate district's fine art collection which consists of some 2000 works of art, mainly from the 19th and 20th centuries. The collection includes works by William Powell Frith, Atkinson Grimshaw, Sir Edward Burne-Jones, Dame Laura Knight, Alan Davie and many more. The collection is not on permanent display. Paintings, prints and drawings from it are featured in our lively and diverse exhibition programme throughout the year.
The gallery has two spaces, the Main Gallery and the smaller North Gallery. The exhibition will also launch the complete renovation of the interior of the gallery.
As well as the main prizes six artists won special commendations £50 each:
Laney Birkhead for her print Last rays soaking in bulrushes moorhens cry.
Piers Browne for his oil painting Evening Sunburst Evening Sunburst over Wensleydale at daytime for Whitfield Scar.
Caroline Machray for her drawing Composed.
Andrea Newall for her gouache Self Portrait.
Mike Robson for his drawing and painting of Graham Towers' De Havilland Tiger Moth.
Richard Turner for his ceramic sculpture The Baselisk.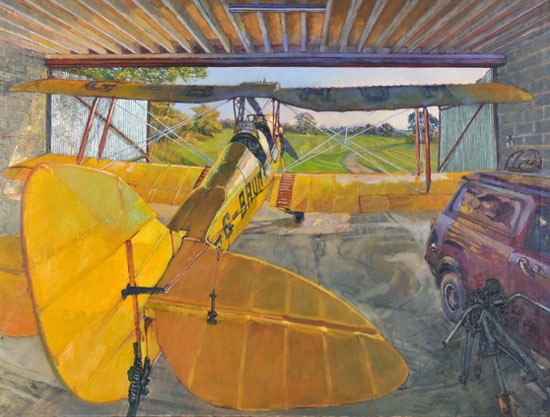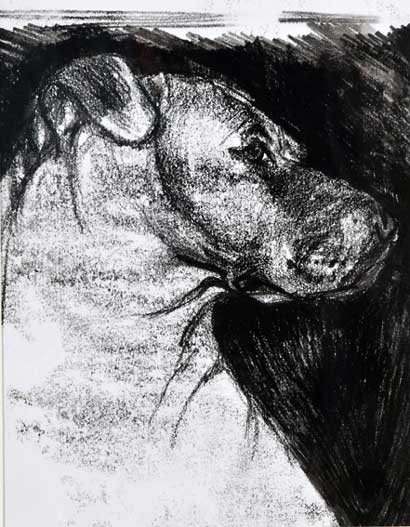 The artists whose work has been selected for the 2012 Harrogate Open are:
Brian Anson Cliff Barker Josie Beszant Sue Bird Laney Birkhead Paula Bishop Jaki Bogg Susan Broadhurst Gordon Broadhurst Victoria Brookland Piers Browne Gareth Burkhill-Howarth Jane Burnley Robbie Burns Barbara Cassell Helen Cassidy Leslie Child Margaret Clapperton Jason Clements Simon Crawford Martin Curzon Kenneth Dalton Simon Dawson Angela Dawson Clive Day Nicole Dickinson Heather Dormer Len Downes Gillian L Dunsmore Helen Enty John Exley Azu Fletcher Heather G Foster Manchula Foulkes Tim Frankland Linzi Froggatt Sarah Garforth Rosalind Gascoyne Sue Gell Margaret Gilbert Margaret Glackin Joy Godfrey Ronald Gordon Lesley Gore Clare Granger Ben Greenwood Cynthia Griffiths Carole Griffiths Pam Grimmond George Hainsworth Lucy Hainsworth Kathy Hammond Keiko Harada Makiko Hastings Kevin Haynes Diana Henderson Henshaw's College 2nd Year Nicky Henson Daren Higham Janet Hollins Katherine Horner Annette Jeffery Rebecca Johnson Carole Jones Wendy B Jones Ann Joslin Paul Keen Gill Kirk Denise Koumentakis Caroline Lambert Kay Latto Colin Lee Myles Linley Maureen Little Terry Logan Joan Love Liz Lund Niki Lyons-Montgomery Caroline Machray Emerson Mayes Suzanne McIvor Beverley McNab Moira McTague Martin Meyrick David Morris Margaret Morris Diane Morris Denise Mullen Chris Murray Andrea Newall Julia Odell Blabinder Olak John Page Guy Parker Janet Paver-Campbell David Perks C J Philipson Barry Pickersgill Linda Pieters Julia Potter Alex Purves Michael Raho Olivia Reece Biba J Reid Mike Robson Joyce Rowland Austin Ruddy Cynthia Runzo Chris Rymer Carolyn Salmon Caroline Salter Ian Schofield Malcolm Scott Ian Scott Massie Rosie Scott-Massie Simon Sellars Mike Sims Martin Sloan Sue Slocombe Anne Christine Spence Jack Stancombe Alison Stimpson Catherine Sutcliffe-Fuller Ian C Taylor John Temperley Bridget Tempest Michael Thornton Chris Tolley Nicky Tudor Anne Turner Gwen Turner Jean Turner Richard Turner Reina Van Den Hoek Doug Wales Fergus Watson-West William Watson-West Bridget Watts Helen Wheatley Stuart Whitehead Marcia Whitham Jan Wilkins Joanna Wilkinson Ruth Wilksinson Graeme Willson Peter Wildon Anuska Wittman Brenda Wright Rebecca Wright Janet Yeun Jay