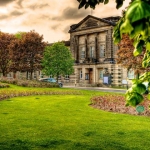 Harrogate Borough Council is consulting on the area to be covered by a Neighbourhood Development Plan for the city of Ripon.
Following an approach by Ripon City Council, Harrogate Council's planners successfully applied for the city to become a front runner in the government's Neighbourhood Planning Scheme introduced by the 2011 Localism Act.
The aim is to get more local communities involved in their areas by producing a development plan for their locality. They will be able to help shape the development and growth of a local area through the plan which will become part of the district's statutory development plan, a key element in the determination of planning applications in the Ripon city area.
Leader of Harrogate Borough Council, Councillor Anthony Alton, says that the first stage in taking the Neighbourhood Plan process forward required the City Council to make an 'area application' to the planning authority.
Councillor Anthony Alton added:

This involves identifying the area they suggest the plan should cover, and a statement explaining why the boundary proposed is appropriate. The City Council has done this and we have accepted their application. We are now required to consult on the application before formally designating the Neighbourhood Planning area. The City Council is proposing that the area covered should be the current parish boundary.
The six week consultation starts on 28 September running until 9 November 2012.
Full details will be available from 27 September at www.harrogate.gov.uk/neighbourhoodplanning where you are also able to complete an on line questionnaire.
Summary leaflets including a freepost questionnaire (and supporting information) will be available at Ripon Library and Ripon Town Hall during normal office hours. There is also a post box for completed questionnaires. Posters have been placed in key locations around the city.
Harrogate Borough Council is also consulting direct with residents and businesses who have already asked to be kept informed on future local planning developments.