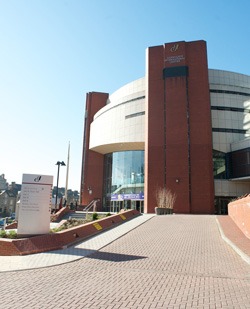 The Harrogate International Centre (HIC) marketing team has been short-listed for a prestigious industry award for one of their direct marketing campaigns.
Tracey Garrett and Lynne Hudson, who make up the marketing team at HIC, have made it to the final four for the Meetings Industry Marketing Award fighting off competition from entries across the country and many from international organisations.
The pair were nominated for a direct marketing campaign they devised to tempt large influential buyers out of London to Harrogate. The campaign featured buyers being sent a small inflated red balloon with an invitation to an event where guests would get to meet the HIC sales team.
Tracey Garrett, marketing and communications manager, said:

In the events business it is can be difficult to capture the imagination of organisers who have seen every type of marketing before. The challenge for us is to be creative and surprise them. We only have one chance to make an impression and the invitation coupled with a great event helped us to do that.
Simon Kent, deputy director at HIC, said:

The marketing team work very hard coming up with new and innovative ways to target our existing and potential customers. This award is recognition of that effort which supports our sales team as they continue to bring in great new business wins for the centre and the region.
The MIMA Award is being held in London on October 1st 2012 where the winner will be announced.