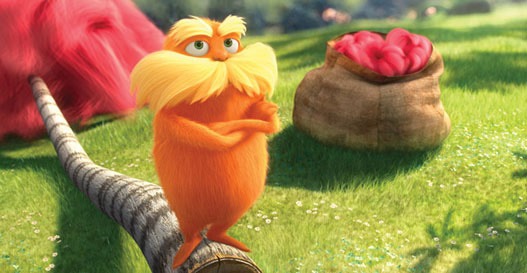 Leading social care provider Dimensions is celebrating the first year of a project that has made going to the cinema in Harrogate more accessible to people with autism.
Autism Friendly Film Screenings, organised by Dimensions in conjunction with ODEON cinema group, were launched in August 2011 to create more inclusive environments for people who experience autism.
Since then, there have been a total of 274 visits to the special screenings in Harrogate, held once a month at Harrogate ODEON. Nationally, there have been 21,561 visits at nearly 90 ODEON cinemas.
This Sunday, August 12th,Harrogate ODEON will show an Autism Friendly Film Screening of Dr Seuss: The Lorax (U) at 11.30am, marking the first anniversary of the project.
The success of the screenings shows there was a real need to improve access to the cinema for people with autism and learning disabilities. Dimensions is pleased the project has become so popular through being very well received by families.
Director of Practice Development at Dimensions, Lisa Hopkins, said:

The autism community have really embraced our project. This partnership has enabled so many people who experience autism to feel more involved in their community. It is all about inclusion and we are very pleased with the positive impact it has made to people's lives.

One in a hundred people in England and Wales are diagnosed with autism and it is essential society is adaptable to their needs – this project, we feel, is a huge step in the right direction.
Autism Friendly Film Screenings are mainstream films shown in a sensory friendly environment. Lights are on low, sound is turned down, trailers are omitted and people can bring their own food and make noise.
Dimensions, which provides specialist support for more than 2,500 people who experience autism and learning disabilities across England and Wales, shared its expertise with ODEON before the project began. This included creating guidelines for cinema staff to make sure the cinema visits could provide the best possible experience.
Visitors keep in regular contact with Dimensions to share what they like about the films on the organisation's Facebook page. They enjoy being able to watch mainstream films when they are first released in an environment conducive to their needs.
Inreek Sandhu, a Dimensions support worker, said:

I have been attending these screenings for a while now and think they are amazing. The guy I support can be vocal, so it was always difficult taking him to the cinema – which was a shame because he loves going. Now he can go and be as vocal as he wishes. I couldn't think of a better setting for him.
Stephanie Gill takes her nephew Aiden Nolan, four, who experiences autism and Asperger's syndrome , along to screenings. He had never been to the cinema before he started attending the Autism Friendly Film Screenings.
Stephanie said:

He just loves going to the cinema. A normal screening is too dark for Aiden and he really appreciates being able to move around during the film.
The project started as a one-off, with 3,222 people attending the first screening of Mr Popper's Penguins last August in 40 ODEON cinemas nationwide. Because the first screening proved so successful, Dimensions and ODEON decided to roll the screenings out to more cinemas on a monthly basis.
Since then, the project has gone from strength to strength and the organisations have recently been shortlisted for a Third Sector Excellence Award in the corporate partnership category.
Lisa Hopkins added:

To think that we have opened up the cinema experience to so many people, who had perhaps not visited a cinema or not enjoyed going to see a film before because of their sensory needs, is incredible.

The project has grown in popularity over the first year, proving there was a real need to improve access. The cinema experience can be a challenging environment for people who experience autism but we have proved that it is made accessible by good partnership working . We look forward to building on this in the future.
Roger Harris, Chief Operating Officer, ODEON Cinemas said:

ODEON are committed to providing the best cinema experience for all of our guests and we are delighted with the success of our Autism Friendly screenings over the past twelve months.

The sensory friendly screenings currently take place at nearly 90 ODEON cinemas across the UK and the Republic of Ireland and we foresee the popularity of these screenings increasing further over the next year as people become more aware of the partnership.
Tickets for this Sunday's screening will be available from 11am on Wednesday 8th August by calling the ODEON accessibility helpline number on 0800 138 3315. For more information, visit www.dimensions-uk.org/autismfilms