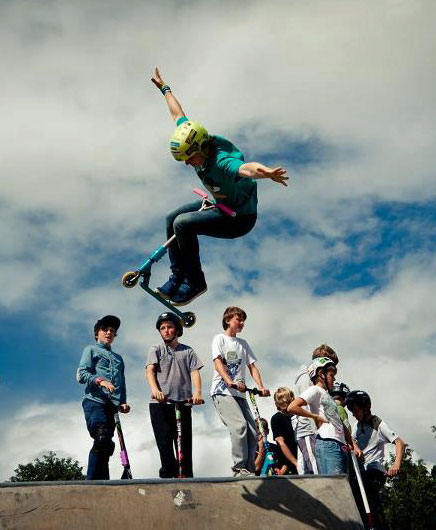 Hundreds of people of all ages turned out on Sunday 29th July 2012 to celebrate the 1st Anniversary of the Harrogate Valley Gardens Skate Park. The day was hosted by the Sk8 Safe Team who are employed by Harrogate Borough Council for the summer months to promote skate park etiquette on the Valley Gardens Skate Park. Thanks to the council's continuing commitment to the local community the event was completely free to enter and open to all ages and abilities.
Young people travelled from far and wide to take part in this amazing one off event and bid to win some of the £1500 worth of prizes. The Skateboard and Scooter competition prizes were donated by Popcornskate of Northallerton and the BMX competition prizes were donated by 'The Works' Indoor Park, Leeds.
Lion Paw Sound Systems created a wonderfully relaxed atmosphere with their Reggae music which was enjoyed by competitors, spectators and Valley Gardens Visitors all afternoon.
Sk8 Safe who have been managing Skate Jam's for the last 8 years awarded prizes for skill and use of the park in the main Scooter, Skateboard and BMX events. In the free skate sessions they were keen to reward effort and Sk8 Park Etiquette. Winners from the day are as follows:
Skateboard Under 12, 1st prize went to Martin Pontin age 11 with 2nd prize going to Harry Hall aged 10. Skateboarding 12-15 1st prize went to Reece Mills age 13 who is definitely one to watch for the future and 2nd prize to Matt Payne age 14. Finally, in the skateboarding category and 16 plus 2 local guys cleaned up with 1st prize going to Tom Van-den-Hoven and the 2nd prize going to Chris Parry age 25.
The BMX was all ages 1st prize went to Scott Atkinson age 17, 2nd prize to Ryan Gardener age 17 and 3rd prize to Connor Bedford age 17.
Scooter under 12 was won by Rory Henderson age 11 and 2nd prize went to Carl Mills age 11. The over 12 category was won by local lad Josh Petts with Jamie Hoatson age 15 coming a close 2nd.
The Sk8 Safe Team will be on the park every week for the rest of the summer holidays holding Skate Park Etiquette sessions and chatting to parents!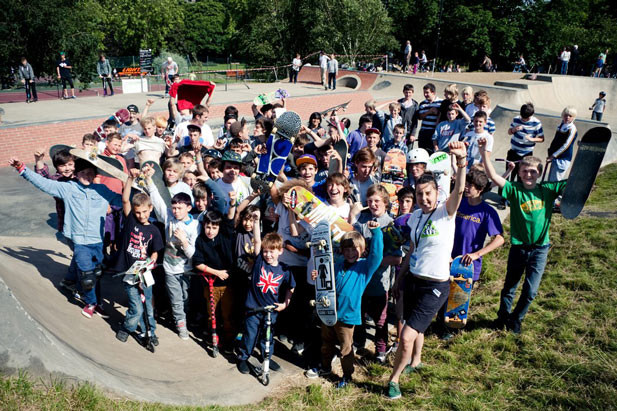 Photo's credit goes to professional photographer Nate James.