Following yesterday evening's award ceremony where Denise Mina picked up the prestigious Theakstons Old Peculier Crime Novel of the Year Award, the festival got under way today in earnest.
The festival was first staged in 2003 with 2,000 tickets being sold and has now grown to become a 12,000 ticket event and the worlds largest crime writing festival.
John Connolly opened the three day event in Harrogate, talking about the early days of his writing career in Dublin. Speaking with Festival programming chair, Mark Billingham, he spoke about the writing in a an Ireland during the troubles with the difficulties that posed in writing objectively with broader appeal outside Ireland.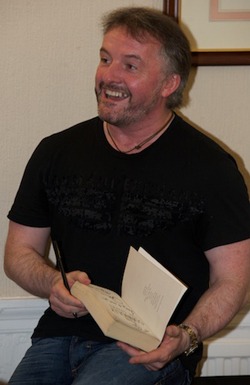 John spoke of the level of self doubt that all writers have and that with many of his books he gets to 20,000 words and thinks that what he is writing is rubbish. Mark Billingham concurred and added that doubt was necessary to keep an edge to the writing. John added that most writers were two books away from obscurity and there was a dilema in writing commercial books with a wide appeal and personally pushing the boundaries on his own work.
Sharon Canavar, Chief Executive of the Harrogate International Festival said:

I am very excited about this year's festival as I was there for the very first  festival that featured Colin Dextor and it is thrilling to have him back here again this year.

Having Mark Billingham at the helm as the chair of programming is fantastic and will only help the event grow too.

John Connolly kicked off the festival, but the session on E-books hosted by Mark Lawson tackled a  contentious issue but we didn't realise how feisty and diverse discussion would actually be.

I am particularly looking forward to the return of Rankin and Robinson this evening and the new Blood session on Saturday that is all about début authors and is always full of fans and industry – it introduces new authors to the stage.
Erica Morris Literary Festivals Manager said:

It is yet another hugely successful crime festival with some fantastic talented authors

We have sold more tickets this year than ever before and there is real buzz being created.

In the very first crime festival in 2003 Ian Rankin spoke with Peter Robinson, an event that has been marked in the festivals history books. This evening we are recreating that again, along with props in an event that will no doubt be as memorial as the first.
A few tickets available on the door for some Saturday events on a fist come first served basis. The Ian Rankin and Peter Robinson converstaion, Harlan Coben and Jo Nesbo are sold out.
The Crime Festival runs from from Thursday 19 July to Sunday 22 July 2012.