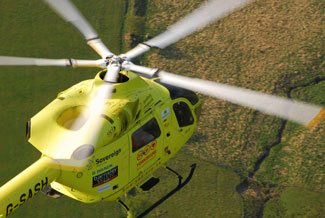 Harrogate and Knaresborough MP, Andrew Jones, backed calls to help reduce the cost of fuel for Yorkshire's air ambulance service during a debate in the House of Commons this week. The debate called for an urgent Government review of VAT on Air Ambulance fuel payments.
Andrew Jones MP is a long-time supporter of the Air Ambulance locally and recently ran a 'recycle your mobile' campaign to raise money for the Yorkshire branch.
In the debate comparisons were made with the Lifeboat Service which is exempted from VAT on fuel. The Air Ambulance provides an emergency service similar to the Lifeboat Service which is excluded from the EU VAT Directive on fuel costs since its introduction in 1977, whereas the Air Ambulance Service has been required to pay for VAT on fuel because it wasn't exempted at the outset.
Mr Jones commented:

Unfortunately it is not possible to have the Air Ambulance service exempted from the tax because EU VAT rules don't allow us to do this retrospectively but I believe we should look to help them financially to cover the VAT element of their fuel. In rural areas like North Yorkshire the Air Ambulance is a life-saver. I want to ensure that the contribution of the volunteers who raise money for it is recognised by placing the service on an equal footing with the lifeboats.

It is not an uncommon sight to see the distinctive yellow helicopter landing on the Stray in Harrogate. It is a sight that local people are used to and they know when they see the helicopter lives are being saved. If, even in these difficult times, the Government can provide help to support this service then I would welcome that.
During the debate, there were calls on the Government, in the next 12 months, to undertake a review on the matter and consider, as part of that review, providing grants to the Air Ambulance Service to cover the VAT on the fuel they purchase.