Harrogate and Knaresborough MP, Andrew Jones, hosted the parliamentary launch of the new Business is Good for Britain campaign run by the British Chambers of Commerce.
Andrew Jones MP, who has 25 years of business experience, is a keen supporter of the British Chambers of Commerce's (BCC) campaign which brings together business people to emphasise the importance of a thriving private sector to the UK's prosperity.
Among those attending to show support for the campaign were Mike Glenn, European Managing Director of CH2M HILL, a sponsor of the campaign, John Longworth, Director General of the BCC and a Harrogate resident, Eric Pickles, Secretary of State for Communities and Local Government and Mark Prisk MP, Minister of State for Business and Enterprise, alongside other MPs and business leaders from across the country.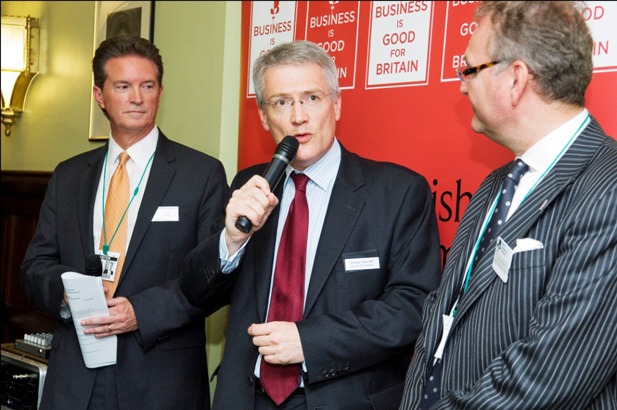 Andrew began by assuring the guests that parliament knows the importance of business for the country.
He believes that the British Chambers of Commerce are an important voice for business and do an excellent job representing their business members, which they have been doing for 150 years.
 Andrew Jones MP said:

I like the positive nature of this campaign and we must recognise and celebrate business success.

2011 saw the record number of business start ups – there were 495,600 in the year to March.

And we need a healthy, thriving private sector to create the wealth that we need to get out of our current economical difficulties.

It is taxes from the private sector, from business and employees, that help fund our public services. A healthy private sector means a better-funded public sector.

The campaign wisely highlights the positive impacts this has on people and communities.

It is an important campaign and the number of colleagues here today proves that.
Also speaking at the event was Dr Adam Marshall, BCC's Director of Policy and External Affairs, who said:

There are thousands of fantastic companies in Britain, who are working relentlessly to create jobs and growth despite the pressures they still face.

Through our Business is Good for Britain campaign, we hope to highlight the many ways in which firms, of all sizes and in all sectors, are helping the UK prosper and drive a sustainable recovery.

We value the support that Andrew and his colleagues in Westminster showed for our campaign last week, and look forward to working together to spread the word that Business is Good for Britain.
In the question and answer session that followed speeches Andrew spoke about the investment in transport infrastructure taking place around the county including high-speed rail connecting London to the north and the important of superfast broadband to business success.