On August 14th 2012, four amateur cyclists will ride from Birstwith, Yorkshire to Rome, Italy to raise money for Yorkshire Air Ambulance.
The team will be covering 1,320 miles, or 2,000km over 14 days and will have to average 93 miles a day.
Sean McPartland (41, from Birstwith), David Kent (39, carpet layer from Harrogate), Heather Robinson (27, works at Pannal Primary School and is part-time personal trainer from Burnt Yates) and Paul Warner (19, is a 1st year student journalist at the University of Cumbria, from Harrogate) are the four cyclists taking part in the event.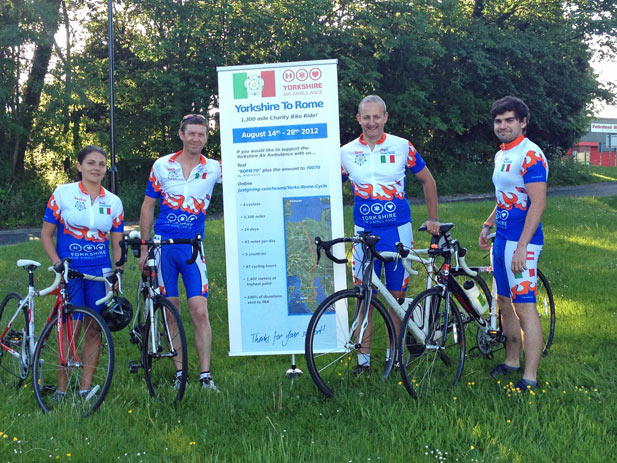 The team aims to raise at least £21,000 to go towards keeping the Yorkshire Air Ambulance's services running.
The ride will begin at 10:00am on Tuesday the 14th of August, 2012, from outside the Station Inn, Birstwith.
The four cyclists will first travel to Hull and catch a ferry to Rotterdam. After this they will ride down through the Netherlands, into Germany, through Austria, over the Alps, down into Italy and on to Rome.
The team will be riding with backup. Two vans will accompany the team, with one being in front of them and one behind, in case of any emergencies and to carry equipment.
To donate, you can visit www.justgiving.com/teams/Yorks-Rome-Cycle OR you can text ROME70 + your amount to 70070 to contribute directly to the team.