Home Instead Senior Care a local home care company, recently got involved with 'National Falls Awareness Week' by hosting an informative coffee morning for the residents of Gwendolen Court, Boroughbridge.
'National Falls Awareness Week' is an annual event organised by Age UK to raise awareness on the dangers of falling. According to Age UK falls occur in around 30% of over 65's and 50% of those aged over 80 every year. As well as causing a serious injury, a fall can destroy confidence, increase isolation and reduce independence.
The theme this year was 'Boost your Bones' and all about good bone health. As we age our bone strength naturally deteriorates putting us at greater risk of a fracture if we do fall. Age UK suggests maintaining healthy bones and reduce the risk of osteoporosis and fractures through weight bearing exercise and eating a balanced diet with calcium rich foods and getting enough vitamin D. At the coffee morning Home Instead Senior Care gave advice on types of weight bearing exercise that are suitable for older people plus information on foods that are rich in calcium which coupled with at least 10 minutes of sunlight a day can help to maintain healthy strong bones.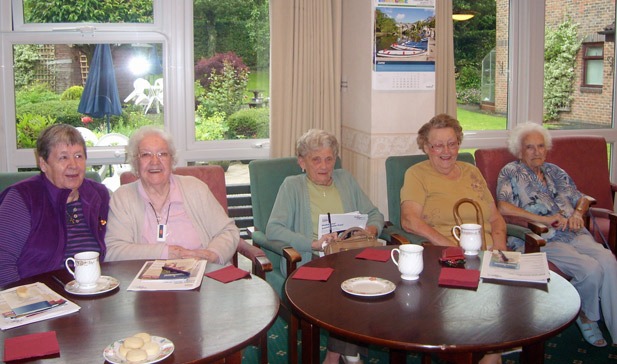 Home Instead Senior Care owner, Sheena Van Parys commented:

We always get involved with Age UK's National Falls Awareness Week as it is such an important topic, especially with 3 million people in the UK estimated to have osteoporosis. We try and make our presentations informal, fun and interactive with quizzes, coffee, tea and cake while hopefully getting across the important message on how to keep falls free in and around the home.
Home Instead Senior Care is changing the way care is delivered in the UK. Their service is tailored to the needs of individual clients and ranges from companionship, meal preparation, light housekeeping, post-discharge care, personal care, medication reminders, shopping and errands. The service is totally flexible to meet client needs and is available from as little as 1 hour to 24 hours a day or live-in, seven days a week.