Boy band D-LUX at the Cow and Calf rocks, Ilkley Moor, West Yorkshire.
On keyboards, Richard Lansbury, aged 13, on drums, Jack Hendy aged 10, electric guitar, Tom Everett, aged 13, and bass Lucas Rocholl, aged 13, striped t-shirt.
On Friday 6 July (9pm to midnight) the UTOPIA club, 29-31 Westgate, Bradford will host a select number of bands featuring students aged between 10 and 19 coached by the Rock Education Company: Learn to Rock.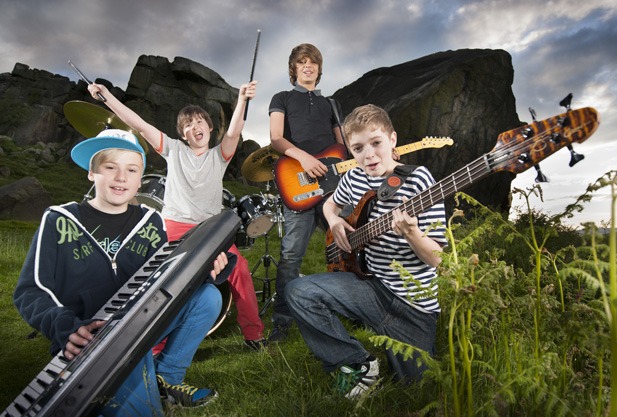 Ilkley based bands (comprising Year 6,7 and 8 students)- D-LUX and Between the Line will open the gig performing a selection of original songs and popular covers. These bands will be followed by Bradford based bands: Feedback, U and Them, E.N.D. and Mindless Art also performing original songs and covers.
Also performing at the UTOPIA club is the superb solo artist Bradley Johnson who will perform covers including music from Take That, Michael Buble and Robbie Williams.
Learn to Rock is based in Bradford and works with schools across West Yorkshire to provide high quality Music and Performing Arts education to give students the unique opportunity to experience work in the commercial music industry.
For more information on enrolling your child for one of the Learn to Rock programmes please contact admin@learntorock.co.uk
Tickets for the UTOPIA gig are available from Learn to Rock or can be obtained on the door. Tickets are priced £5.00 for adults and £3.00 for students under 18 years old.
All students under 18 years old must be accompanied by an adult.