A charity tennis tournament held at Ripon Tennis Centre on 10th June raised £630 for the local people with dementia and their carers through charity fundraisers, the Acorn Committee.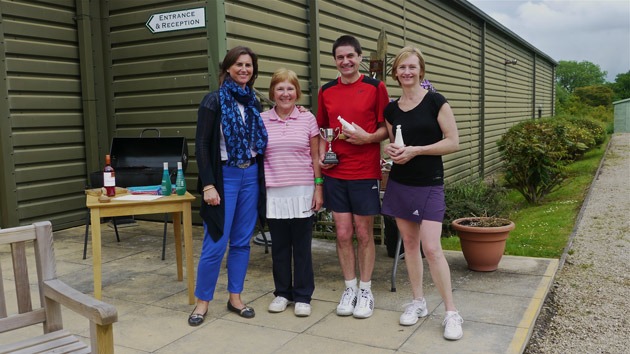 Tournament winners Brent Murray and Jane Hall of Harlow Tennis Club with Acorn's Louise Hanen and presenter of the Jim Jackson trophy, Janet Burton 
The tournament was held in memory of Jim Jackson who was a keen tennis player and helped to develop the club at Ripon and who died of Alzheimer's. The trophy for the winners was donated by his widow, Janet Burton who is also a keen player and who competed on the day.
Fifteen couples entered the tournament with the final eventually contested by Jane Hall and Brent Murray of Harrogate club, Harlow against Tony and Lorna Simpson, father and daughter from Ripon Tennis Centre.
Jane and Brent came out eventual winners with semi-finalists Sara Knox and Chris Partridge from Ripon and Vanessa Cameron and Richard Gillies of the Academy completing the list of prize winners on the day. Prizes were kindly donated by Essentials of Huby.
Runners-up father and daughter Tony and Lorna Simpson with Acorn's Louise Hanen and Janet Burton from Ripon Tennis Centre
Ripon Tennis Centre generously donated their facilities on the day. Acorn Chairman Louise Hanen said:

We had a great day with a rare break in the weather providing an opportunity for some excellent tennis matches. A big thank you must go to all who helped make the day a really happy occasion. All the money raised will go to Dementia Forward which works exclusively with people with dementia and their carers in the Ripon and Harrogate area.
The next Acorn event is the annual Golf Day to be held at Ilkley Golf Club on Friday 7th September. To enter please go to www.acorncharity.org.uk and follow the links. For more information about Acorn and the charities it supports, please contact Louise Hanen on 01423 734876 or email louisehanen@acorn.org.uk