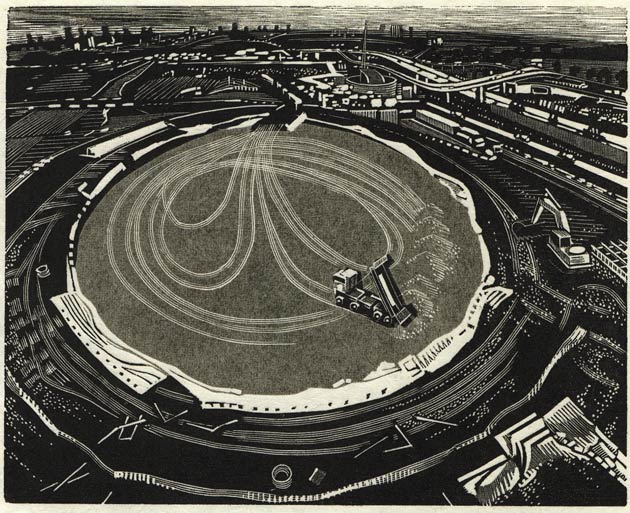 Printmaker Anne Desmet RA has responded to the 2012 Olympics with a new exhibition of prints and engravings that track the transformation of the 2012 Olympic site in east London where the artist lives.
Anne Desmet was intrigued from the start, initially by the first artists' and designers' impression of the mass of construction due to take place in her neighbourhood. Concentrating on the construction of the main Olympic Stadium and the Velodrome, her work explores these circular forms from above, creating abstract map-like images, layering together the different phases of construction.
The exhibition features over 30 works, with wood engravings portraying the Olympic site and Hackney marshes, and collages transferring the stadium details to razor shells and roofing slate. It also presents two engravings that focus on the Aquatics Centre, and the work entitled Olympic Shadows that was accepted by the Royal Academy of Arts as Desmet's Diploma Work on her election to the RA last year in 2011.
Desmet is a highly skilled printmaker, who not only uses the traditional printing crafts of engraving and etching, but also uses, tiles, stone, glass and scraps of London A-Z maps that gives a nod to both the geology of the site beneath the new buildings and the effect of the development on neighbouring London streets.
Jane Sellars, Curator of Art said:

Anne Desmet is an outstanding printmaker whose work has been seen and enjoyed in Harrogate before. This new work inspired by the Olympics fits beautifully with our 2012 focussed exhibition programme.
The show, which was curated by the Hart Gallery, is accompanied by a short film about the artist made at her studio in London, and an exhibition catalogue. Olympic Metamorphoses features in Welcome To Yorkshire's Art in Yorkshire campaign for 2012, Art in Yorkshire Goes Modern.
Anne Desmet is giving a talk about her work at the gallery on Tuesday 19th June at 1.45pm, followed by watching the Olympic Torch relay pass by outside (on Ripon Road).
Tickets are £6.50 and can be booked at the gallery, online at museums@harrogate.gov.uk or by phone on 01423 556188.