A major, multimillion pound refurbishment project has just been completed at Allerton Castle.
In 2005, this stunning Grade 1 listed building steeped in history and nestled in the North Yorkshire countryside was ravaged by a devastating fire, leaving the castle in ruins. Now, six years on and £6.5 million later, a new glass panelled roof in The Great Hall is the final piece in the puzzle, marking the end of a painstaking restoration project and a true labour of love.
The Great Hall, which at 80ft is one of the highest baronial halls in England, is now drenched with natural sunlight thanks to the new roof installation.
Although a private residence, owned by American businessman Dr Rolph, Allerton Castle is available for couples to hire exclusively for their wedding.
Owner of Allerton Castle, Dr Gerard Rolph said:

Having restored the castle to its former glory once and then, having to endure another six years after the fire, we're delighted that the restoration is finally complete. The castle is beautiful and the new roof simply extends its beauty even further.
Daniel Gill, Managing Director of Dine, who provide wedding catering said:

The new roof at Allerton Castle is really significant as it marks the end of a painstaking restoration project, which has seen the team work tirelessly to get it just right. I truly believe that Allerton Castle is the perfect venue for any bride-to-be searching for that magical, once in a lifetime experience.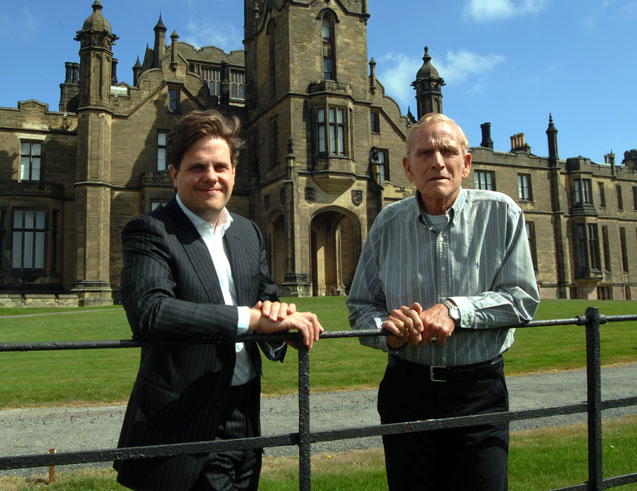 Daniel Gill, Managing Director of Dine with Owner of Allerton Castle, Dr Gerard Rolph