On the day Europe's eyes have turned to Azerbaijan for this year's Eurovision Song Contest, Harrogate Hospital Radio has broadcast a special programme to celebrate the 30th anniversary of Harrogate hosting the competition in 1982.
Thirty years ago a television audience of more than 300 million viewers across Europe tuned in to see the 27th Eurovision Song Contest broadcast live from the Harrogate International Centre. They witnessed the German teenager Nicole win the competition by a record margin with her ballad 'Ein bißchen Frieden' (A Little Peace).
In a one-off programme for the hospital radio station, presenter Laurence Roche – better known to listeners as 'Doctor Feelgood' – pays tribute to Harrogate's forgotten Eurovision past with interviews from host Jan Leeming, and the artist who represented the UK in 1982 as part of the group Bardo, Sally Ann Triplett.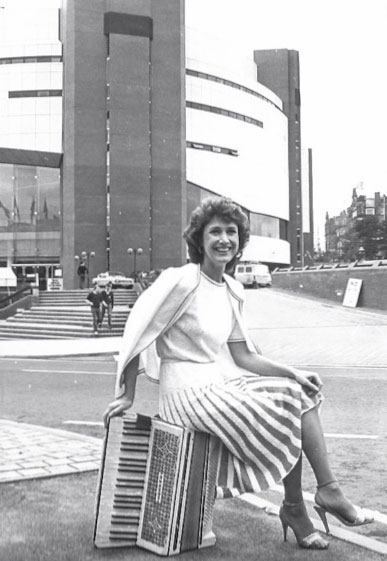 Host Jan Leeming, pictured in Harrogate in 1982
Jan Leeming told him:

It was exciting and it was incredibly professional in those days. I mean, we had live music and I had to spend a month learning the script because there was no autocue.
Meanwhile Sally Ann Triplett (right) was philosophical about their song's disappointing seventh position on the night. She explained:

We were favourites and if you look back at all the songs that year it was the best pop song – we got to number two in the charts.

Eurovision has always been political and the Falklands War was going on at the time and we had a girl with an acoustic guitar singing 'A Little Peace'. Also there was the fact that Bucks Fizz had won the year before and I don't think the BBC wanted to fork out for another year.
The 27th Eurovision Song Contest was the first event to be held at the Harrogate International Centre where it was broadcast to a global television audience.
A year earlier, the British group Bucks Fizz had won the right for the UK to host the competition after whipping their skirts off during their performance of 'Making Your Mind Up'.
Roche explained:

I wanted to explore how Eurovision came to Harrogate, speak to some of those people who were here in 1982 and explore how the competition transformed the town's fortunes as a major international conference centre.

The self-confessed Eurovision fan also gave his verdict on Englebert Humperdinck's prospects of bringing victory to the United Kingdom this year with his song 'Love Will Set You Free'.

I'd love Englebert to win, but I expect Turkey to do well too – they're my tip for tonight – and I suspect it's a tune that will be popular with the millions of telephone voters from Budapest to Moscow.

And my favourite song in this evening's competition is the Italian entry – a surprisingly good Amy Winehouse-tinged blues number. called 'L'amore è femmina'."

And as millions turn their attention to the European song contest taking place in Azerbaijan's capital tonight with its pyrotechnic-studded arena, let's not forget that thirty years ago our Yorkshire spa town hosted the competition.

Despite the outrageous acts or cheesy songs occasionally a memorable tune emerges. If Harrogate is to be remembered at all for hosting the competition 30 years ago, perhaps it'll be for that innocent song that brought back victory for Germany for the first time in 1982. It was a simple ballad, and maybe this is the year that Englebert Humperdinck will take his romantic ballad and bring victory to the UK – and, who knows, perhaps Harrogate can host the competition once again?"
I would also like to thank the many people who assisted me by contributing to the programme – my interviewees and also for the kind assistance provided by Harrogate Library and Betty's Tea Rooms.

Harrogate Hospital Radio broadcasts 24 hours a day in a service available exclusively to the patients in Harrogate District Hospital. The station has been broadcasting since 1977 and is run entirely by volunteers.
For more details about the charity radio station and the work it does, contact Ian Wighton on 01423 553 342 or visit the website www.harrogatehospitalradio.org.uk