Rail users in Harrogate have welcomed the introduction of a new Saturday night service launched by local train operator Northern Rail.
The 21.11 from York to Harrogate will connect the North Yorkshire commuter town with services from London, operated by East Coast and Grand Central, allowing greater flexibility for those travelling back from the capital at the weekend. It will also offer a later service to those who wish to travel locally to stations between York and Harrogate.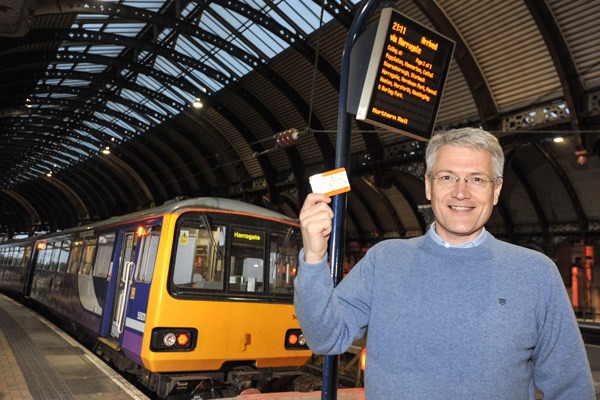 MP Andrew Jones has hailed the new services as essential for the Harrogate community
Local MP Andrew Jones has hailed the new service as an essential link to the capital for the Harrogate community and travelled to York to send off the first service.
Andrew Jones MP for Harrogate and Knaresborough commented:
Growing transport connections in the North, with services such as the 21.11 to Harrogate, helps encourage more people to travel locally as well as opening up links with London and the rest of the country.

Good transport links are essential if we wish to see our local economy grow. In these difficult times I am grateful to Northern Rail for having invested in this new service.
Richard Allan, Area Director, Northern Rail commented:
This additional service will be open to customers from Saturday 19 May, and we hope it will offer greater opportunities for them to use the line, as well as connect passengers travelling from London to Harrogate via York.
The onward connection to Harrogate can be made for the services leaving Kings Cross at 19.00 (East Coast) and 19.07 (Grand Central). The new service will depart York at 21.11, arriving in Harrogate at 21.44 and call at Poppleton, Hammerton, Cattal, Knaresborough and Starbeck.