Sir Elton John has announced that guests 2Cellos will join him for his forthcoming live show at the Yorkshire Show Ground in Harrogate on the 5th June 2012.
Classically trained musicians 2CELLOS have performed together since January 2011 and have landed a major record deal and management contract whilst being taken under the wing of Elton John.
In January 2011, they uploaded a unique cello version of 'Smooth Criminal' by Michael Jackson onto YouTube. Within just a few weeks, their video became a huge viral sensation, receiving over 5 million views.
A month later, 2CELLOS signed a record deal with Sony Masterworks. They were invited by Sir Elton John to join him on his worldwide tour. Their self-titled debut album was released worldwide in the summer of 2011 and they appeared on national television shows including The Ellen DeGeneres Show and Fox & Friends in the U.S., as well as Stefan Raab's TV Total in Germany. They have also appeared as the special musical guests on Fox's hit TV series Glee performing 'Smooth Criminal' in the Michael Jackson tribute episode.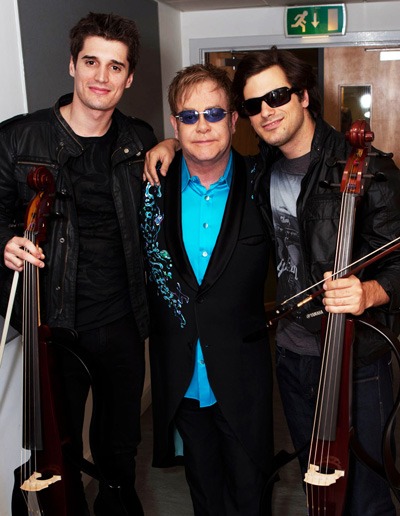 Luka Sulic and Stjepan Hauser are accomplished musicians, both having played the cello since childhood. They recently completed their studies, Luka at the acclaimed Royal Academy of Music in London, and Stjepan at the Royal Northern College of Music in Manchester.
Luka has performed all over the world at renowned venues including London's Wigmore Hall, Amsterdam's Concertgebouw, Vienna's Musikverein and Konzerthaus. He has won a series of international prizes including first and special prize at the VII Lutoslawski International Cello Competition (Warsaw, 2009).
Stjepan has also performed around the world in most European countries, South Africa, New Zealand, Asia and the USA, with debuts in London's Wigmore Hall, Royal Albert Hall, South Bank Centre and Amsterdam's Concertgebouw. He was the last pupil of Mstislav Rostropovich. In his short career, Stjepan has already been awarded first prize in twenty-one national and international competitions, and he has performed twice for Prince Charles at Buckingham and St James's Palace.
Last summer Luka Sulic and Stjepan Hauser joined Elton John and his band as they toured the world. This year they have also performed as his special guests, opening the show with performances including music from Tchaikovsky to Michael Jackson to Nirvana. This will be their first ever performance in Scotland and one that is likely to lead to many more visits.
Performing live gives us the chance to share our passion and energy for music with the audience. We look forward to doing that across the UK.
Elton's shows comprise over two hours of hits from an incredible back catalogue, including such classics as 'Bennie and the Jets, 'Crocodile Rock' and 'Your Song'.