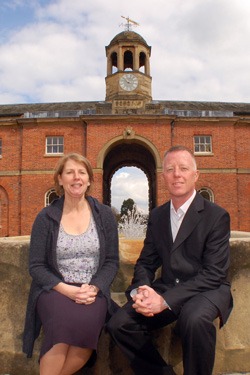 The Stables at Newby Hall, housing around 16 businesses in the grounds of the historical estate in North Yorkshire, is at full occupancy because of an investment in high speed broadband.
A 20Mbps fibre connection was brought to the Stables via NYnet Ltd, and distributed to the offices within the Stables as well as the estate office, entrance pavilion, restaurant and Newby Hall itself, with help from local business IT support company, Skipton Systems.
Eleanor Sharp (pictured) at The Stables said:
When we opened up the Stables as a commercial development in 2005, the broadband speeds we received were adequate at less than 1Mbps, however with the rapid advancement of technology over the last couple of years, we were struggling to attract new occupiers for our offices with these slow speeds.

It was becoming increasingly apparent the Estate had to invest heavily in up to date technology to be able to compete with other rural business parks in the area. Now we have high speed broadband which can grow with our needs; we are able to promote The Stables with confidence as a life style choice for businesses who want it all.
One of the Stables' occupiers, Lauras International, has seen instant benefits for their business. The company, which depends on robust communications to be able to deliver rapid improvements within medium to large manufacturers, is now able to rely on technology including video conferencing, remote shared drive access and on-line working.
Jeremy Praud, Partner at Lauras said:
As soon as the fibre went live at the Stables, we were able to change our business model to improve our own business operations, and this has helped us communicate with clients and our other offices throughout the world". Lauras International boasts blue chip clients such as Weetabix, Kraft, and Reckitt Benckiser and has sister offices in Melbourne, Singapore and Chicago.
Paul Crane (pictured), Business Development Director at NYnet, said:
The Stables was a challenge, we really investigated every possible solution to get connectivity to the park but fibre was really the only viable option. We are pleased the Estate and the occupiers are now utilising the new connection and it is making a difference to the Estate as a whole.
The estate has already seen vast improvements such as the point of sales machines which now have instant access to process transactions for visitors. There are plans for making the most of the new connection to help promote events with wifi services for event organisers and the ability to offer live video streaming as part of their wedding packages.
Eleanor continues: 
We are working with Telecom Yorkshire Ltd on developing the wireless offerings for events as this gives us another unique selling point. The future looks bright for the estate and we look forward to developing further as the technology progresses.