At what will be a unique occasion, The Yorkshire Regiment (1st Battalion Yorkshire Regiment) is to exercise its Freedom of Harrogate at the 2012 Great Yorkshire Show.
At the invitation of the organisers, the Yorkshire Agricultural Society, 185 soldiers will parade around the show's Main Ring wearing combat dress, with Colours flying and bayonets fixed. There will also be a silence to mark the Regiment's recent losses. The Great Yorkshire Show attracts around 130,000 visitors and is England's premier agricultural event.
The Parade takes place on the first day of the three day event, Tuesday 10 July, and is being organised in conjunction with Harrogate Borough Council.
Nigel Pulling, the Society's Chief Executive said:
The 1st Battalion returns from active service in Afghanistan just before the Great Yorkshire Show, and we are delighted and extremely proud to honour them. It will be a unique occasion as it is the first time that the Regiment has exercised its Freedom at an organised event. This means that not only will this be a highlight for our show visitors, but as the Parade will be streamed live via our website, the audience is worldwide, including members of the Regiment's 3rd Battalion who do not return from Afghanistan until October.
The Society will also be inviting close family members of the soldiers to the event.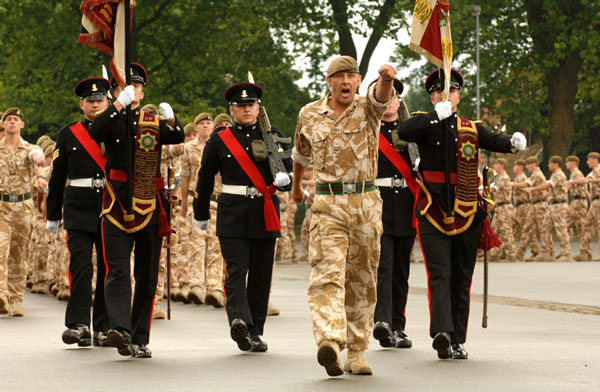 Lt Col Jonny Price, OBE, leads the contingent of The Yorkshire Regiment (1st Battalion) during the Freedom Parade in Harrogate, 2009
The Mayor of the Borough of Harrogate, accompanied by the Council Leader, and the Chief Executive, Wallace Sampson will watch the Parade from the President's Box along with Society personnel. The Mayor will take the salute which will be followed by a presentation to the Regiment by Simon Theakston, the Society's Chairman.
The Parade will take approximately 30 minutes and the soldiers will be under the command of Lieutenant Colonel Dan Bradbury. The Band of the King's Division will precede them in the march around the arena.
Traditionally regiments exercise their Freedom at the end of operational tours. The Yorkshire Regiment last did so in Harrogate in 2009 on returning from Iraq. The Freedom of the Borough is the highest gift a Council can offer.
The Great Yorkshire Show marks the start of a week Homecoming Parades for the Regiment – Beverley and Bridlington on Wednesday 11 July, Bradford and Leeds on Thursday 12 July, York on Friday 13 July and Hull on Saturday 14 July.