Local car retailer Benfield has teamed up with youth-led learning charity Keyfund, to help enterprising youngsters to earn cash to deliver their own projects.
Keyfund, run in North Yorkshire by the County Council's Youth Support Service, supports young people aged between 11 and 25 and helps them to develop 12 Keyfund skills by planning and delivering projects of their choice.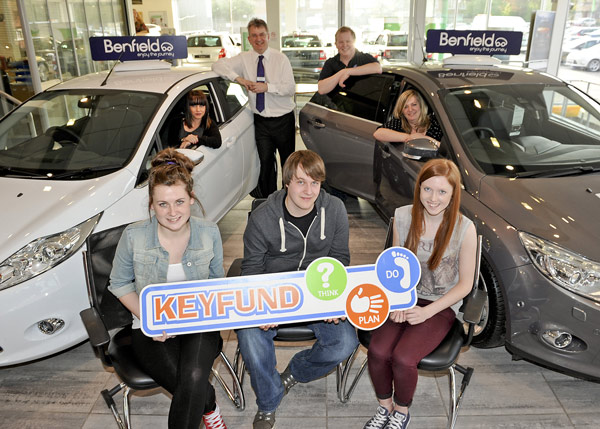 (L-R) Georgina Ward aged 16, Chris Vasey also 16 and Ellie McNulty aged 15 all from Harrogate. The Dragons are (L-R) Emma Ellington (Benfield), Nigel Clayton (Benfield), James Parkes (Youth Engagement Officer North Yorkshire County Council) and Lucy Gratton (North Yorkshire Youth) 
Benfield Ford Harrogate hosted a Dragons' Den-style event for Harrogate youngsters at the dealership.
The groups taking part were from across the Harrogate district. They presented the projects they had created, planned and nurtured through to fruition, convincing the Dragon's Den-style judging panel their learning and development were worthy of support.
Benfield Ford Harrogate's General Manager, Nigel Clayton said:
We are delighted to support youth development and learning in the Harrogate area. Benfield is a family owned business with family values and the Keyfund project is a shining example of how we can all work together and make a difference in the communities we serve. We thoroughly enjoyed the outstanding presentations which all highlighted the keys skills the groups have developed and learned throughout the process.

North Yorkshire's Youth Engagement Officer James Parkes said "It is fantastic to work with Benfield Ford to enhance youth opportunities within the Harrogate District. We're really pleased to develop this relationship with Benfield to support young people to enjoy their learning journey.
With ideas ranging from planning trips to Doncaster Dome to organising music festivals for young people, all 5 groups were successful and were awarded up to £250. A further 3 groups will go to panel in the next few days. Keyfund is an incremental process so this is only the beginning of their journey of development. Groups can go on to earn up to £500 at Stage 2, £1000 at Stage 3 and finally £2000 at Stage 4.
The event was made possible by Keyfund's new partnership with the Benfield Charitable Trust who have funded the programme, which included training 8 youth workers to use the process as well as fund the projects.
Keyfund, a North East based charity, has been established for 20 years and has an active network of over 1000 facilitators and community panel members, developing the skills and confidence of over 6000 young people every year.
Anyone wanting to know more about Keyfund should contact James Parkes, Youth Engagement Officer on 01609 533932 or visit www.keyfund.org.uk