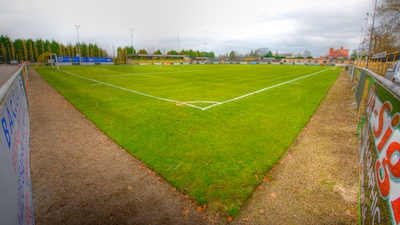 Harrogate Town dominated the first half with a series of long throws and corners by Craig Radcliffe keeping the Bay defence on its toes.
Alan White went close and a Richard Pell header rattled Colwyn's crossbar as they pushed forward to support Town's attack.
Bay began to get into the game and a clever back heel by Jon Newby found Gareth Evans, who squared to the overlapping Mike Lea and his cross forced Town to concede a corner from which Danny Meadowcroft headed wide.
However, after 34 minutes it was Colwyn who opened the scoring when Mike Lea dispatched Newby down the left then ran through to head his centre into the corner of the net.
Town tried to hit back immediately and Andrew Burns picked out Chib Chilaka who hooked just over the bar, before White headed yet another Radcliffe corner wide.
After the break, Matt Bloomer's header sent Alex Meechan clear but Paul Bolland headed his cross over the top.
Town fortunately did not have long to wait for an equaliser, Colwyn could only clear a corner to Meechan on the edge of the area and his low drive flew into the corner.
Burns and Lee Elam combined to play in Chilaka who shot across goal,before Metcalfe luckily saved from Tom Platt with his legs.
Unfortunatley with less than ten minutes to go, Town's defence lost concentration and 40-year old ex Chelsea defender Frank Sinclair ghosted in to head home Luke Denson's free kick.
The Town connections breathed a huge sigh of relief three minutes later when Chib Chilaka latched on to a flick on and lashed in past Metcalfe with the home defence screaming for offside.
A frantic climax saw Chilaka's effort from Elam's cross richochet over the bar, while at the other end a short back pass from White let in Rob Hopley,but his lob over Mark Cook cleared the bar.
Harrogate survived a tremendous stoppage time onslaught with Cook saving from Hopley with his legs and Bay being denied a penalty by Referee Ryan Johnson as Denson's shot appeared to strike the arm of a Town defender.
Town 1 Cook 2 Burns 3 Radcliffe 4 Bloomer 5 Pell 6 White 7 Platt 8 Bolland (c) 9 Chilaka 10 Meechan 11 Elam
Subs 14 Palmer 15 Brayson 16 Turl 17 Youhill (rep Bolland 83) 18 Nowakowski
Scorers Meechan 62,Chilaka 84 Bookings Pell Att 284