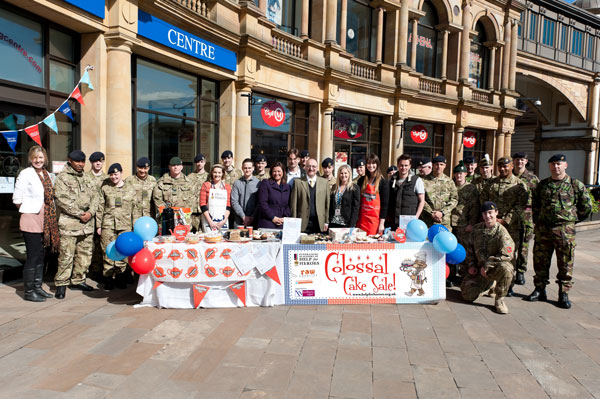 Victoria sponge was sold outside the Victoria Shopping Centre!
Harrogate creative agency, Raw Creative Ltd told shoppers and visitors to 'Keep calm and eat a cupcake' on Thursday 5th April as they hosted their first annual Colossal Cake Sale!
The team of designers and PR professionals spent the day on the piazza outside the town's Victoria Shopping Centre selling baked goodies in aid of military charity Help for Heroes. Over £450 was raised in total which will go towards the Phoenix House Personnel Development Centre at Catterick Garrison, which opened in 2011 and aims to rehabilitate wounded servicemen and women in the North of England.
The Colossal Cake Sale is an annual initiative from Help for Heroes, which sees cake stalls pop up across the country between 26th March and 7th April. Fans of all things sugary, the Raw Creative team decided to join in the fun and host a sale in association with the Victoria Shopping Centre. Over 20 young soldiers from Ripon's Army Recruitment Team and Harrogate Army Foundation College also helped out selling baked goods on offer and talking to charitable cupcake lovers about their work.
Raw Creative was lucky enough to also gain donations from a number of generous local businesses; Betty's provided cups of Yorkshire Tea whilst Mama Doreens Cupcake Company, Bespoke Cupcakes and the Harrogate Cake Company provided scrumptuous baked treats. The banners for the event were also kindly supplied by Holberry Signs.
Raw Creative Managing Director, Kirstyn Pollard said:
We are delighted to have raised more than £450 for Help for Heroes during our Colossal Cake Stall. It's a charity the team holds very close to our hearts. I would like to say an enormous thank you to the troops from Ripon and Harrogate, the Victoria Shopping Centre and to all businesses and shoppers who helped make this phenomenal total possible! Facilities like the Phoenix Centre are essential in maintaining the welfare of our military personnel and it is essential we have centres like Catterick in the North of England as well as in the South. I hope this event becomes an annual occasion for Raw!
Victoria Shopping Centre Centre Manager, David Horth added:
Harrogate has a very strong military connection so we were only too pleased to be able to partner up with Raw Creative for their cake sale. The piazza was flooded with charitable shoppers donating money and buying cakes – thank you to everyone who contributed.