England's oldest "village" cricket league has a new sponsor!
Nidderdale Cricket League, which was formed in 1894 and has more than100 teams playing in nine divisions, has secured a five year sponsorship deal with Masham-based brewery, T&R Theakston Ltd.
In addition to being the league's overall sponsor, Theakston's will also present new annual awards to the player's player and also the club that provides the best hospitality for visiting teams.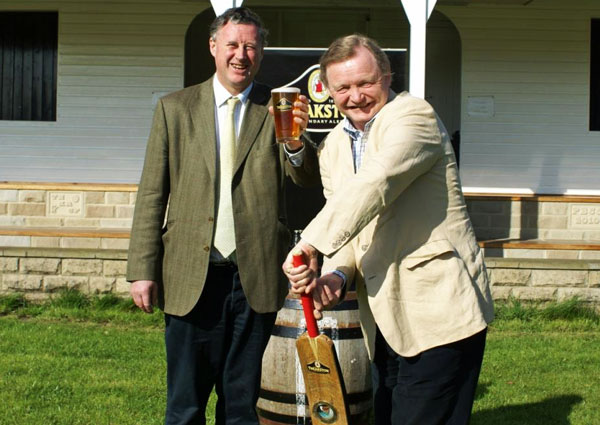 Nidderdale Cricket League President Sir Thomas Ingilby with T&R Theakston Ltd Executive Simon Theakston
Nidderdale Cricket League President Sir Thomas Ingilby said:
We are delighted to have secured such a well-known and respected company as Theakston's to be our first ever main league sponsor.

The Nidderdale Cricket League is going from strength to strength and is recognised as being one of the biggest 'village' leagues in the country.

We are also the oldest village league in the world and one of the most forward looking. Cricket is not the preserve of men; we have several very good lady players playing in our league and several girls' teams and female players playing in the junior indoor league.
T&R Theakston Ltd Executive Director Simon Theakston said:
We are very pleased indeed to have our name associated with the Nidderdale League and to add our support to what is a brilliantly run and supported institution.

We already sponsor a number of local clubs and it's wonderful that we will now have the chance to get to know other teams in the league. We are very proud of our Yorkshire provenance and nothing is more Yorkshire than the Nidderdale Cricket League, it's a perfect match!

The Nidderdale Cricket League has been in existence nearly as long as we have and I hope both organisations will continue to flourish for many years to come!"
The sponsorship deal will be officially announced at a ceremony at Pateley Bridge Cricket Club, on Wednesday, March 28. The venue was chosen because Pateley Bridge Cricket Team was one of the original six clubs to play in the newly created league.
The league now extends over a wide geographical area; from Middleham in the north to the outskirts of Otley, Leeds and York, a far cry to the days when it was within Nidderdale alone, and when teams were on occasion carried by horse and wagon to away matches.
The opening matches of the 2012 Theakston Nidderdale Cricket League season begin at 2pm on Saturday, April 21.