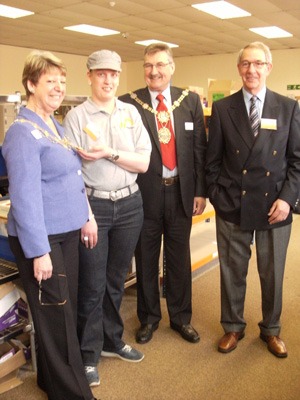 The Mayor and Mayoress of Harrogate, Coun Les Ellington and his wife Christine, and Coun Stan Lumley, the Mayor of Pateley Bridge were among the guests attending a lunch event at Harrogate social enterprise Paperworks last week.
Other guests included representatives from the many local businesses and community groups who use the charity's services as well as volunteers and supporters.
Three Paperworks trainees led the event, delivering presentations that they had prepared themselves explaining the work they carry out at the workshop and giving their perspective on Paperworks.
Paperworks manager Damien Handslip said:
They took the visitors through a typical day in the workshop and also shared the emotions they had experienced when they first came to Paperworks and how highly they value the training they receive here.
Paperworks operates work preparation programmes for people who are looking to return to work after a period of ill health, or those with a disability who are interested in work. Its services are tailored to meet the individual needs of each trainee to include job search support, advice on completing CVs and application forms and interview skills.
The workshop on Hookstone Avenue provides professional support services to businesses of all sizes across Yorkshire, including postal services, direct mailing, stock holding, order picking and print finishing.
Mr Handslip said the event had been a huge success attended by people from the communities of Harrogate and Nidderdale.
Damien Handslip added: 
We have been operating in Harrogate for 17 years and we have recently opened an outreach office in Pateley Bridge so we were very pleased that the Mayor of Pateley Bridge was able to see what we do here and how we can now help people further afield in Nidderdale.