Town dropped nearer to the relegation zone after a controversial home defeat against Workington.
Craig Radcliffe threatened with an early free kick,however the Cumbrians broke quickly from defence but Matt Bloomer tracked back well to avert the danger.
On eight minutes Richard Pell headed Anthony Wright's free kick for a corner which the Town defence cleared as far as Phil McLuckie who promptly volleyed in past Mark Cook from thirty yards.
Workington were playing the better football and Jake Picton blocked well to deny Wright before Dave Hewson shot over the bar. Harrogate's main threat came from set pieces with Will Turl's header finding Chib Chilaka who unfortunately scuffed his shot.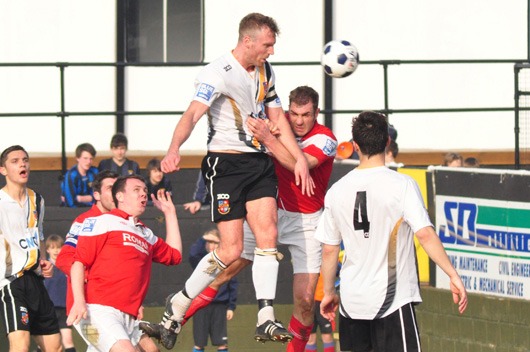 Pell made several dangerous sorties forward and forced Aaran Taylor into two good saves. Rob Youhill and Lee Elam replaced Ashley Palmer and Andrew Burns at the interval.
Town were revitalised and Pell soon had an header blocked, while Chilaka glanced Elam's pin point cross just wide.
For the Reds, Gareth Arnison and Wright combined well only for the reliable Picton to make a vital clearance.
Jonny Allan replaced Turl on the hour as Town searched for the elusive equaliser.
Town were bludgeoning the visitors with high balls and getting nowhere, while a few quick rapier thrusts may well have paid dividends.
As the game reached it's finale,Cook made an excellent save from sub Jordan Connerton while Pell was inches high with yet another header.
The game ended in controversy when Jonny Allan was red carded after a tussle with Kyle May who appeared to make a back for him,while keeper Taylor amazingly only received a yellow for retaliation.
Town 1 Cook 2 Burns 3 Radcliffe 4 Palmer 5 Pell (c) 6 Picton 7 Bloomer 8 Dean 9 Turl 10 Chilaka 11 Platt
Subs 14 Brayson 15 Elam (rep Burns 45) 16 Meechan 17 Youhill (rep Palmer 45) 18 Allan (rep Turl 61)
Sent off Allan 85 booked Platt