Harrogate Town were unable to replicate Tuesday's heroics as they slipped to defeat against third from bottom, Vauxhall Motors.
Loan signings, Andrew Burns from Bradford City and Ashley Palmer from Scunthorpe United, were both given debuts as Town's injury crisis bit deep. Indeed, Burns was soon in action, clearing well from a Motor's corner.
Town, playing with a strong breeze at their backs, began to exert pressure and visiting keeper, Scott Tynan was almost deceived by a Craig Radcliffe corner, which he pushed onto the roof of the net.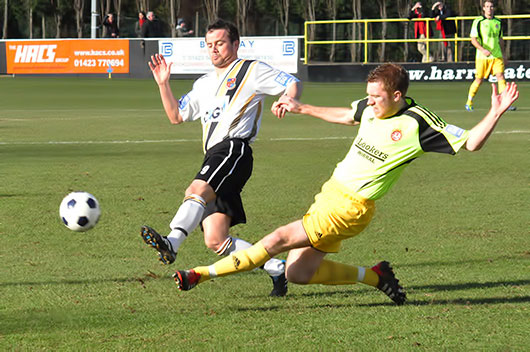 The Motors were looking dangerous on the break and Dan Parkinson found Craig Mahon who shot across the face of the goal.
Halfway through the half, Tom Platt latched on to Alex Meechan's cross, only to see his fierce shot brilliantly saved by Tynan.
With Town dominating, Tynan was in constant action,saving well from Palmer and Rob Youhill and then watching as Paul Bolland's effort was cleared off the line.
Town were unable to force an opener, although Youhill's corner was headed against the bar as Motors survived a goalmouth scramble.
The second half opened with Tynan saving at the foot of the post from Paul Brayson,before Brayson twice squared across goal but Motors managed to clear.
As the half wore on, Town's youngsters began to tire and Vauxhall saw their chance.
Mark Cook made a fantastic series of saves, which earned him Town's "Man of the Match"as Motors threatened to run riot.
However, on 85 minutes a free kick by David Mannix saw Tom Hannigan's looping header give Motors the lead.
A last minute foul by Bolland on Craig Mahon gave Vauxhall a penalty which Josh Wilson converted.
To their credit, Town fought back and deep into stoppage time sub Jonny Allan bundled in Youhill's centre for a consolation goal.
Town
1 Cook 2 Burns 3 Radcliffe 4 Platt 5 Palmer 6 Bloomer 7 Youhill 8 Bolland (c) 9 Brayson 10 Chilaka 11 Meechan
Subs 14 Elam 15 Turl 16 Allan 17 Emmett 18 Brough
Subs used, Elam rep Meechan 63 mins, Allan rep Chilaka 72 mins , Turl rep Brayson 76 mins
Scorer Allan 90+4 Bookings Burns, Allan