The growing numbers of horses being reported as abandoned or neglected is putting the RSPCA under pressure as never before.
The charity is dealing with large numbers of dead or dying horses being dumped in remote spots and horses placed in RSPCA care because their owners are accused of cruelty and neglect.
Today, the RSPCA is boarding 227 horses in the North of England alone which are subject to on-going investigations, almost all of which are in private establishments at a cost of between £10-£15 per day. Of course, this figure doesn't include veterinary or farrier care.
Cathy Hyde, equine officer for the North of England, said:
We seem to be seeing more and more dead and dying horses dumped off the back of trailers in secluded areas, their owners unwilling or unable to pay for veterinary treatment or a 'knackerman' to dispose of their body.

Irresponsible owners and traders can't care for or sell the stock they already have but are continuing to breed. When those animals suffer or their needs aren't met organisations like the RSPCA are left to pick up the pieces.

We are, quite honestly, struggling to keep up with what is a mounting crisis.
Worst in the North of England
The situation is at its worst in the North of England – where a large proportion of the 510 horses being boarded by the RSPCA have come from and are being cared for.
Cathy said:
Our inspectors are picking up horse case after horse case across the region.

Where veterinary advice supports the fact that animals are suffering we act immediately to remove them, but that leaves us with the insurmountable problem of hundreds of horses whose care we fund for many months and even years until their owners are prosecuted or agree to sign them over so they can go to new homes.

Although this would never influence our decision to remove animals, the enormous cost of housing, feeding and treating hundreds of these horses is putting an immense strain on our already stretched finances.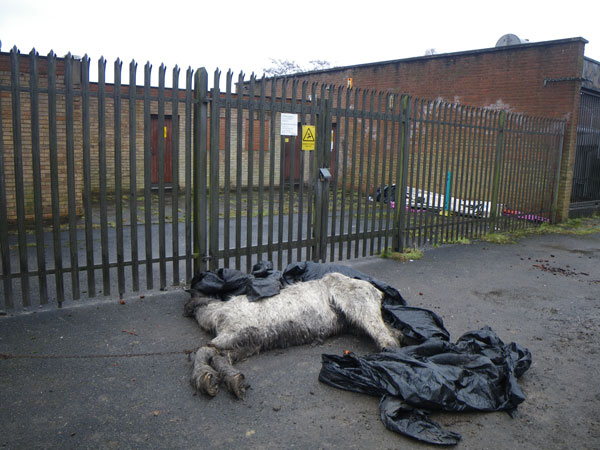 Examples
The RSPCA is dealing with many neglected horses, whose owners have not, as yet, been identified.
A horse was found running loose on Eldon Bank Top, Shildon, Bishop Auckland on Tuesday 14 February with an injury to his penis. The horse deteriorated whilst at the vets and had to be put to sleep to end his suffering.
A dead horse was found dumped on Slack Lane, Westhoughton, Bolton on Monday 13 February. The 18-month-old filly was emaciated and missing an eye. It's thought she died elsewhere and was brought to the spot in the early hours.
Early on the morning of Thursday 2 February the RSPCA was called to a dying horse on Shortwood Lane, Clayton, South Yorkshire. Though an inspector went straight to the scene the horse, a female cob yearling, had died when they arrived. She was emaciated and had overgrown hooves. It's thought she had been dumped there at some point during the previous night. (Photos available)
A four-year-old Welsh Section A-type pony was found dumped on Vale Road Industrial Estate, Heaton Mersey, Stockport on Saturday 31 December 2011. The mare was in good bodily condition apart from an old injury to her hind leg which has required extensive treatment, and being in foal. She is in RSPCA care where she will remain until her foal is born and weaned and homes will be sought for both of them.
A cob-type filly was found dumped on some scrub land between Chadwick Lane and Green Lane in Heywood, Rochdale on Monday 19 December last year. The filly, aged between 18 months and two years, was in need of vet attention so was taken into possession by police and placed in RSPCA care. She was underweight, suffering from a lice infestation and heavy worm burden. Happily, a new home has been secured for her. (Photos available)
On Sunday 25 September 2011, a mare with a severely infected ingrown head collar and two foals – a filly and a colt – were removed from grazing land at Walton, Wakefield. The mare had to be shot with a tranquilliser rifle due to the immense pain she was suffering in order to catch her. After extensive treatment she has now made a full recovery and is currently being trained with a view to re-homing her as a riding pony. The foals have been fostered until they are of an age where they can be offered for adoption.
On 30 March 2011, the RSPCA was called to an emaciated mare on Stainforth Moor Road, Hatfield Woodhouse, Doncaster which had become stuck in a river and while she stood there her foal went to suckle and drowned. The mare was not microchipped so the identity of their owner couldn't be proved. After months of TLC she has been, happily, rehomed.
An underweight, heavily pregnant mare was found on First Lane, Anlaby, Hull on Saturday 12 March 2011. Despite the RSPCA's best efforts her owner wasn't found and she remains in RSPCA care where her foal has now been born. It's hoped 'Katie', named after the police officer who took her into possession, and her foal 'Aphrodite' will be adopted soon.
Plea
In an unprecedented step, the RSPCA is making a desperate plea to the public to remember that we have finite resources and must always act within the law.
All of the calls that come into the RSPCA have to be dealt with by a total number of 402 RSPCA officers (inspectors, animal welfare officers and animal collection officers)*. This works out as one RSPCA officer for every 137,414 people in England and Wales** and is compared to a police force of 135,838 officers.
Cathy said:
We are being overwhelmed with enquiries from well-meaning people who believe that we are able to step in and remove animals straight away. We share their frustration that there are horses in muddy fields or which may seem as if they don't have water or food but we do not have any powers to remove these horses unless a vet says they are suffering or their needs are not being met under the Animal Welfare Act.

We want our supporters and others to appreciate that we can only offer the owners, where they are known, advice to improve less than satisfactory conditions – we cannot force them to comply with this advice nor take away their animals without veterinary support.
The RSPCA does not hesitate to prosecute owners where there is evidence that the animals' needs haven't been met or they have been caused to suffer and achieved 175 convictions involving horses in 2010 (2011 figures are to be released later in the year).
Positive steps
The RSPCA is training a number of officers to become equine specialists to help deal with the growing number of horse cases. A week-long course starts at RSPCA Felledge Animal Centre, Chester-le-Street, County Durham today (Monday 5 March 2012).
We already re-home hundreds of horses a year. In 2010, new homes were found for 156 horses. Incredibly, our dedicated team managed to find homes for an amazing 240 in 2011.
In May this year the RSPCA will run a fostering campaign, appealing for temporary homes for those horses and ponies which have to stay in long-term care because of ongoing court cases. This will mean the horses can be given more time and work, improving their chances of finding new permanent homes whilst helping to ease the mounting costs of keeping them in private boarding.***
In order to draw attention to the RSPCA's rehoming work there will be a brand new class at Equifest, a high profile horse show, in Peterborough on Saturday 18 August. The RSPCA is running our first 'Rescue Horse or Pony of the Year' class to promote the adoption of rescued equines and to show that they can go on to lead healthy and successful lives.
Betsy Branyan of East of England Agricultural Society, the organisers of Equifest, said:
Equifest is delighted to have the opportunity to team up with the RSPCA to help raise awareness of the plight of horses and ponies in our country. An ever increasing number of horses are being neglected or abandoned as a direct result of over-breeding and the state of the economy and the new RSPCA rescue class will demonstrate that a positive outcome can be achieved out of some very distressing situations.
The RSPCA has a special section of its website dedicated to horses. Please visit www.rspca.org.uk/allaboutanimals/horses/rehoming/ownership to view some of the beautiful horses currently looking for new permanent homes.