A new challenge launched by the Yorkshire Young Achievers Foundation to raise up to £10,000 to support young people across the region has received a major boost with backing from Barclays.
The charity is holding a Three Peaks Challenge on Saturday 23 June this year and is seeking at least 100 people, each raising £100, to tackle Yorkshire's three highest peaks in less than 12 hours in a bid to raise a massive £10,000 to help young people in Yorkshire to achieve their full potential.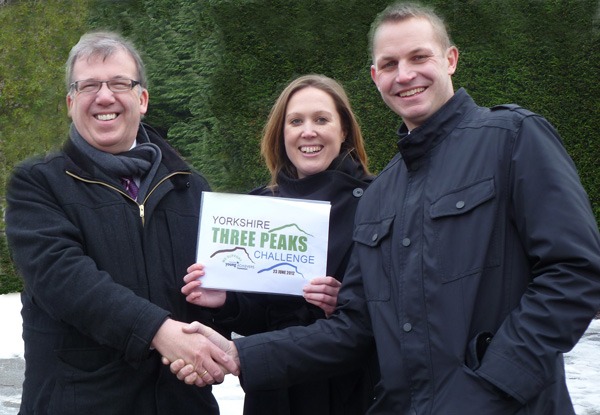 Barclays Bank is supporting the challenge under its matched funding scheme and several teams have already signed up.
Barclays Premier Manager Martin Gerrard said:
The YYAF is a fantastic charity and we can't wait to get our boots on and put our best foot forward for this very worthy cause.
The demanding 25-mile circular route takes in the county's three highest peaks: Pen-y-ghent, Whernside and Ingleborough.
The Challenge is being organised by Yorkshire Young Achievers Foundation Trustees Zoe Ward and Nick Lawson.
Nick said:
Completing the walk in the time set is a challenge, with terrain including bogs and rocky paths, but the rewards are immense, including some of the finest views in Yorkshire. We are indebted to Barclays for its support and would be delighted to hear from teams who are willing to put their best foot forward and take part!

We are also keen to hear from businesses who would be interested in a sponsorship opportunity with a difference – sponsoring one of the peaks for the day.
The Foundation provides direct support to young people, and projects helping those young people, across the Yorkshire region. Grants already made include nearly £12,000 to Candlelighters, to provide equipment for the children's cancer unit at Leeds General Infirmary; a grant to a young runner from Northallerton towards his training and travelling expenses; and a grant to the leading education charity, Teach First, pay for the training of a teacher at Buttershaw Business and Enterprise College in Bradford.
Anyone who is interested in taking part in the Three Peaks Challenge can email info@yorkshireyoungachievers.co.uk
For a registration pack or find more information at www.yorkshireyoungachievers.co.uk. Anyone who thinks they are too far over the peak to take part can support the challenge by donating at www.justgiving.com/nopeaksforme