A folk CD called The Blind Jack Band has raised over £2,000 for Henshaws.
The CD was named in honour of Blind Jack Metcalf, arguably Knaresborough's most famous character who lived from 1717 to 1810. As well as being a renowned civil engineer and horseman, Blind Jack was also a fiddle player who had become completely blind at the age of six following smallpox. The CD features a range of singers and musicians from across Yorkshire with all the tracks having relevance to Harrogate, Knaresborough and the surrounding area.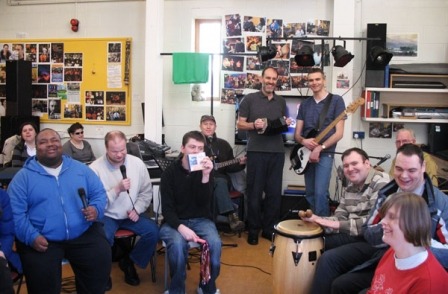 The Blind Jack Band CD has raised £2000 for Henshaws
The CD was the brainchild of band member Mark Ellison who was so impressed by the services offered to visually impaired people by Henshaws that he decided to raise funds for the charity.
Mark said:
John Metcalfe never let his disability shape his life – his achievements were truly remarkable by anyone's standards and his triumph over adversity is an example to us all. Henshaws Arts & Crafts Centre is very close to Jack's birthplace in Knaresborough, and Henshaws College is in the Harrogate area where he played his fiddle at dances.

The Blind Jack Band CD features the sort of music that would have been familiar to Jack and is in aid of a charity that I'm sure he would have approved of. Henshaws is well known for its good work with visually impaired people, helping them gain self-confidence and independence.
The last remaining CDs are available from Henshaws Arts & Crafts Centre in Knaresborough at the bargain price of £2. All profits will go to Henshaws Arts & Craft Centre.