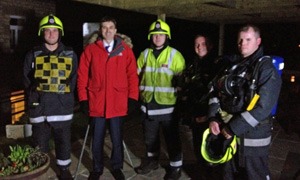 Julian Smith, Member of Parliament for Skipton and Ripon, has joined Masham's retained firefighters on one of their regular training exercises.
He wanted to highlight the huge commitment given to the community by the crew who all work as on-call firefighters in addition to their regular jobs.
The MP also wants to encourage others in smaller communities across North Yorkshire to consider signing up.
Julian Smith said:
The majority of the fire stations in my constituency are staffed by retained firefighters who are on-call throughout day and night and give a huge commitment of hours to protecting their community.

The men and women in these roles have to be trained as thoroughly as full-time crews but most have other full-time jobs as well.

The fire service in North Yorkshire always would like more people for these roles and I promised to do all I could to help spread the message and, in particular, encourage employers to be supportive of those interesting in signing up.
Currently the fire service are seeking men or women from around Masham and Summerbridge to apply to become on-call retained firefighters, particularly men or women who can provide cover during the day and at weekends.
The force also has on-call retained fire stations at Grassington, Skipton and Ripon and a volunteer fire station at Lofthouse. If people from the local area around these stations are interested in joining they should also contact North Yorkshire Fire and Rescue Service.
Mal Austwick, from North Yorkshire Fire and Rescue Service in Harrogate and Craven, said:
Our on-call firefighters are an essential part of providing an emergency service to the community. They provide amazing commitment on top of their full-time employment to support the operational side of the Brigade.

Those who join the fire service can have a fulfilling and rewarding career in providing emergency fire and rescue cover to their local communities and beyond. We have some on-call firefighters who have worked for North Yorkshire Fire and Rescue Service for over 30 years which is a fantastic achievement.
Information and an application pack on becoming an on-call fire fighter can be found on the North Yorkshire Fire and Rescue Service website – www.northyorksfire.gov.uk