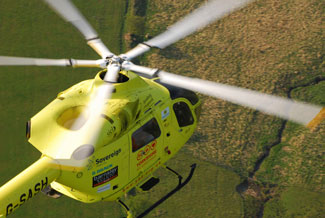 Greg Mulholland MP Member of Parliament for Leeds North West Greg Mulholland, has called for the return of VAT paid on fuel for Air Ambulances when he signed a cross party EDM tabled by York Central MP, Hugh Bayley, calling on the Government to refund to Air Ambulances all the VAT which they pay on the fuel they use.
Special provision is made in the EU VAT Directive for the zero-rating of fuel for use by the Lifeboat Service, which provides an essential rescue service often in extremely difficult conditions; but no provision is made for the Air Ambulance Services, which provides life-saving rapid response emergency service to millions of people every year.
The Yorkshire Air Ambulance is one of 20 Air Ambulance Service independent charities in the UK providing a service to 5 million people across Yorkshire. They operate two helicopters in the region, one in North Yorkshire and the other at Leeds Bradford International Airport, in Greg's constituency, which enables them to cover a vast area that includes major cities and motorways, as well as rural and isolated locations.
Their work includes attending road traffic collisions, hospital transfers and other medical emergencies where a road ambulance would have difficulty attending quickly enough.
To keep providing this life saving service the charity needs to raise £7,200 per day to keep both of Yorkshire's Air Ambulances maintained and in the air. Last year the Yorkshire Air Ambulance purchased around 170,000 litres of fuel and incurred £5,799.06 in VAT costs.
Greg commented:
The Yorkshire Air Ambulance, which has one of their helicopters based at Leeds Bradford Airport in my constituency, offer an invaluable service to the whole of Yorkshire, and provide life saving assistance to many people every year.

They rely on donations to ensure they are able to keep their two helicopters in the air, and so receiving back the VAT on fuel, as is currently the case with the lifeboat service, would be of huge assistance and would ensure they are able to continue providing the fantastic service they currently offer to the whole of the region.