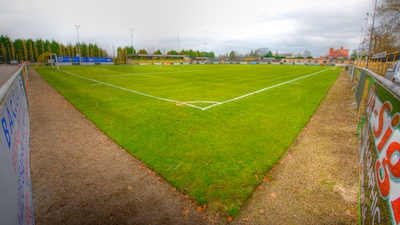 The match at Northolme was preceded by a minutes silence for Harrogate U/19 player Alex Emmett who tragically died last weekend.
Jonny Allan failed a late fitness test,which opened the door for returning favourite Chib Chilaka to make a full debut.
Playing with a swirling wind at their backs,Town caused early consternation in Trinity's ranks when ex Town player Dom Roma could only turn Rob Youhill's cross for a corner.
Trinity hit back and after four minutes Paul Connor broke clear only to be denied by Mark Cook's excellent block.
Town were presented with two free kicks just outside the area, with Laurie Wilson bringing out a full length save from Michael Emery and Paul Brayson shooting over the bar.
Trinity,with the speedy Jamie Yates engaged in a fascinating duel with Jake Picton, missed a great chance to take the lead when Shane Clarke sidefooted over from close range.
On the half hour Brayson picked up a long clearance and expertly played Craig Radcliffe in, but his shot from the edge of the area was well saved by Emery.
Gainsborough spurned two great chances to take an interval lead, with Cook once again blocking Connor when he was clean through,and then Leon Mettam blazed over with a cross shot.
It looked as though Trinity would rue their missed chances when after four minutes of the second half the powerful Chib Chilaka sent Radcliffe away down the left and his centre was lobbed over by Youhill.
Two minutes later, Town were in front.
Paul Heckingbottom's long throw was flicked on by Richard Pell and after Brayson and Paul Bolland both had shots blocked, the ball rebounded to Youhill who hammered home from close range.
Trinity made a desperate attempt to salvage a point,throwing on all three subs.Mettam shot narrowly over,before once again Cook saved Town with a diving save from Andrew Boyce's shot.
Town had a scare when sub Ryan Kendall's cross found Mettam, only for the unmarked striker to head wide.
Harrogate, admirably led by Alan White,held on and indeed threatened to double their lead when they frequently caught the home side on the break.
Town 1 Cook 2 Picton 3 Heckingbottom 4 Wilson 5 Pell 6 White (c) 7 Youhill (Bloomer 75) 8 Bolland 9 Brayson 10 Chilaka 11 Radcliffe
Subs unused 14 Turl 15 Elam 17 Clayton Scorer Youhill 51
Bookings Wilson,Pell,Brayson, and Radcliffe
Attendanc. 596