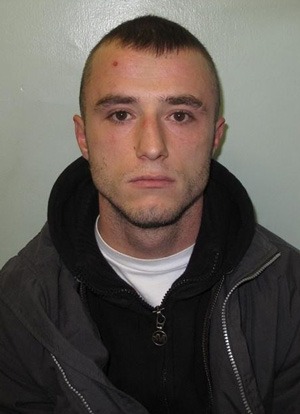 Suffolk Police together with the independent charity Crimestoppers are offering a reward of up to £5000 for information leading to the arrest and charge of a man.
Pytor Melaniuk is wanted for questioning in connection with the murder of 66-year-old Peter Avis in Bury St Edmunds on Friday 13 January 2012.
Pytor Melaniuk is Polish and may also be using the names of Irek Marciewicz, Irek Pomielony, Pyotr Kelaniuil, Kamil Wislak and Ireneusz Melaniuk.
Pytor Melaniuk is white; 5'6'' tall of slim to medium build and has numerous tattoos including ones on his hands and a spider tattoo on his right arm. A distinguishing feature is that two middle fingers on his right hand above the knuckles are missing together with the thumb from the same hand.
He is known to reside and have associates in the Tottenham, Hackney and Stoke Newington areas of London.
Detective Superintendent Julian Gregory, Head of the Norfolk and Suffolk Major Investigation Team, said:
It is very important that we trace Mr Melaniuk and extensive enquiries have been carried out to try to find him. I hope that the reward of up to £5000 will be an incentive for anyone who knows where he may be to make contact with us so that we can locate this man.
Ann Scott, Eastern Regional Manager for Crimestoppers Trust said:
If you have information on the whereabouts of Pytor Melaniuk and are unable to tell police directly you can alternatively give information 100% anonymously to the independent charity Crimestoppers via 0800 555 111 or www.crimestoppers-uk.org. We never ask for your name or take any personal details. We do not trace or record calls/IP addresses and callers to Crimestoppers will not have to give a statement to Police or go to court. In the 24 years that the charity has been running we have never revealed anyone's identity. You can view the appeal in full at www.wanted.crimestoppers-uk.org.
Police are reminding members of the public that if they see Pytor Melaniuk or someone they suspect to be him, to not approach him, but call police immediately on 999.
Officers are asking anyone who may have seen Pytor Melaniuk him or who may have information about where he is now to call the Norfolk and Suffolk Major Investigation Team on 101 or Crimestoppers on 0800 555 111.