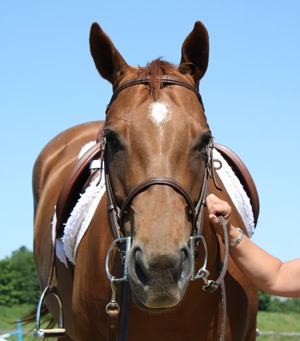 The Animal Health Service carried out an investigation after receiving a number of complaints about a rogue horse dealer from Otely in 2010.
Miss Brooke Lee, aged 24, of 2 Roebuck Lane, Otley, pleaded guilty to the offences on 15 December 2011 at York Magistrates Court, but was sent to the Crown Court, sitting in Harrogate, for sentencing on Friday 21 Jan 2012.
Miss Lee was handed a nine-month suspended prison sentence after pleading guilty to two offences of fraud and one of trading without professional diligence (trading unfairly).
Miss Lee sold a horse known as 'the Apprentice' for £1,837.50 at a local livestock market as 'good to do in every way', but she knew the horse was lame. Officer's contacted the previous owners who were shocked to hear that the horse had been sold. They had given the horse to Lee just five days earlier on the understanding that Lee would give the horse a permanent home and that he would be a companion for her filly.
Officers began investigating other horses that Miss Lee had acquired. A pattern emerged and a further four horse owners told officers that Miss Lee – using different names – had tricked them into letting her take their horse believing it would be given a permanent home. In one case the horse was taken to Melton Mowbray a few days later where it was sold for £480 and slaughtered. Miss Lee continued to lie to previous owner saying that she still had the horse with her in the field.
Matt Boxall, Trading Standards Manager at City of York Council, said:
Miss Lee tricked people into giving her their horses – horses which at their stage in life, needed to take things easy. The lies she told led the owners to believe they were doing the right thing for their animals, that they would be loved and cared for forever. Instead they were simply sold on to unsuspecting customers.

All of the complainants have described their devastation upon finding out their hoses had been treated this way.
Brooke Lee was sentenced to 9-months imprisonment, suspended for two years and to 220 hours unpaid work. She was also ordered to pay £750 in prosecution costs.
Cllr Sandy Fraser, Cabinet Member for Crime and Community Safety, said:
Fraudulent trading in the city will not be tolerated. Anyone with concerns that they have been ripped off or tricked into parting with their belongings by a trader should contact the City of York Council's Trading Standards Service via Consumer Direct on 08454 040506.'