Harrogate Christmas & Gift Fair welcomed two guests of honour on Wednesday 18th January, The Worshipful The Mayor of the Borough of Harrogate, Councillor Les Ellington and his wife Chris.
The Mayor and Mayoress were escorted through the packed exhibition halls by HITF Chairman, Warren Cornelius, who introduced them to exhibitors – all delighted to spend time presenting their huge array of products and sharing a story or two.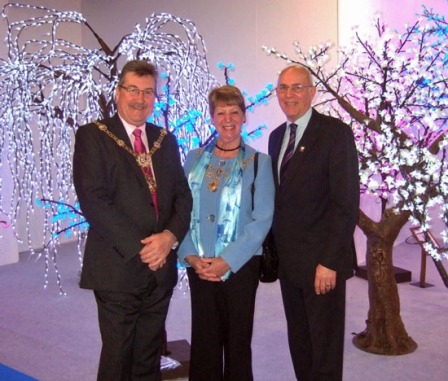 The Worshipful The Mayor of the Borough of Harrogate Les Ellington, The Mayoress Chris Ellington, Warren Cornelius HITF Chairman. 
This is the first time that a Mayor has visited Harrogate Christmas & Gift Fair for many years and this visit firmly establishes the importance of the show and its accompanying business for the people of Harrogate.
Mayor Ellington stated:
The 63 years of partnership between Harrogate Christmas & Gift Fair, the Harrogate International Centre and the Borough of Harrogate brings considerable goodwill to the town and means a lot to the local economy in terms of business, particularly for hotels and restaurants which are utilised by exhibitors and visitors for the duration of the show.

We have thoroughly enjoyed our visit and all of the exhibitors should be congratulated for their hard work in presenting such colourful and eye-catching stands. We hope that all of their hard work is rewarded with lots of orders!
Angus Houston, director at HIC, added:
The Christmas & Gift Show is an iconic show in Harrogate and the first one of the year. I am delighted that HITF has committed to the venue and the town for the next three years.