Just in time for the spring season, Henshaws' Arts and Crafts Centre based in Knaresborough is exhibiting a collection of nesting boxes and bird feeders handmade by its very own art makers.
As well as continuing their art practice, the art makers are given the opportunity to take part in the centre's Social Enterprise business, which encourages their creativity and also offers vocational opportunities. The scheme helps the art makers to learn and develop employment skills, work as a member of a team, meet targets and deadlines and make items to a customer's specifications.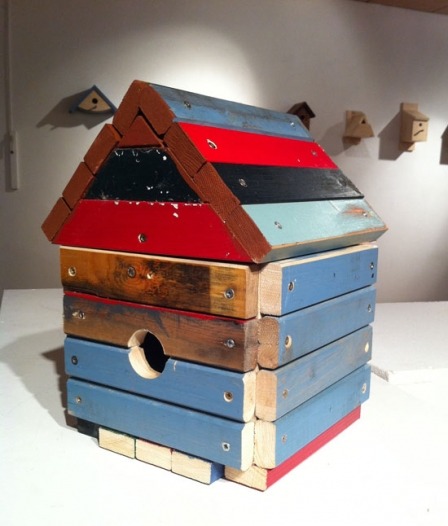 The exhibition shows over 50 nesting boxes covering a wide range of themes and styles, including homes for Blue and Great Tits, Fly Catchers, Sparrow Terraces and Towers as well as homes for the more ground based creatures such as hedgehogs and bugs. The boxes are made from reclaimed timber, including oak, hazel and bamboo coppiced from the centre's garden.
Art maker David Deakin enjoys the challenge of making the boxes. He said:
Sometimes the bird boxes can be very complicated to make. I especially like the way we make sure we are using recycled materials from our own gardens and I really enjoy painting them.
Phill Hopkins, fellow artist and Senior Manager at the Arts and Crafts Centre, added:
This is the first exhibition of its kind to take place at the centre, it is the perfect opportunity to show how much we are able to combine our Social Enterprise, Handmade at Henshaws, whilst continuing to be very creative. The range of items in the exhibition is simply wonderful. Visitors will be able to see the many skills and wide range of knowledge needed by our art makers in order to work successfully in our Woodwork Production Unit. The bird boxes would look good in any garden or, for that matter, on any living room wall!
The exhibition is on until 24th February and is free to visit.