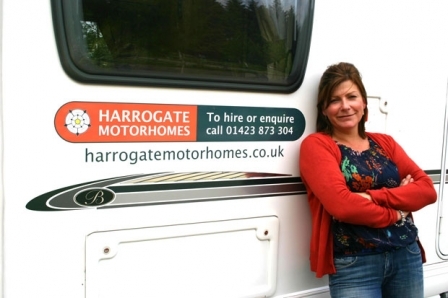 A fast growing business has been given a new year boost after winning a personal testimonial from business Dragon Theo Paphitis.
Harrogate Motorhomes spent much of 2011 bucking the trend, going from a standing start to a turnover of £50,000 in year one.
Former fire fighter Annette Wingate now runs a fleet of five vehicles from a new base on The Grove in Harrogate after launching the company from a kitchen table at her home in Follifoot just 18 months ago.
A sixth motorhome is on its way – a seven-berth vehicle which will be added to a fleet which can now cater for families both large and small.
But the latest coup came when Harrogate Motorhomes was chosen as one of six UK businesses promoted by Theo Paphitis, who uses his Twitter feed to give small businesses a national profile every Sunday.
The mention on the Dragons' Den star's "Small Business Sunday" feed earlier this month has now won Harrogate Motorhomes another £15,000 worth of business, another 200 followers on Twitter, a significant increase in website activity and even a number of business propositions.
Annette said:
The response has been astounding.

I was delighted to be chosen as just one of six businesses in the UK to get a mention from more than a thousand who put themselves forward – but I didn't really expect such an overwhelming response.

It's helped to ensure 2012 is off to a fantastic start and I'm extremely grateful for Theo's support.
Harrogate Motorhomes was founded in August 2010 after Annette investigated the possibility of hiring a camper van from a company based in the Harrogate area.
Unable to find one, she decided to launch her own, acquiring a single vehicle and inviting other owners to consider leasing their vehicles to her when they were not in use.
Focusing on friendly customer service and a pet-friendly, fixed-price policy, the company grew quickly through 2011, moving out of Annette's kitchen to a new base in Kirk Deighton last spring and only recently to a larger home at The Grove in Harrogate.
Annette added: 
I'm hoping to create new jobs this year as we're now able to offer motorhome storage as well," said Annette. "I'm delighted to have enjoyed such a positive start to 2012 but we won't be resting on any laurels.

I can't help feeling there's been an element of 'zeitgeist' so far – but you can't rely on that in business. Success is normally the result of hard work and I'll be doing more of that to make sure we keep finding new customers and keeping the ones who have found us already.